BJP on way out: Kaul Singh
Shimla, August 19
Launching a frontal attack on the government, state Congress president Kaul Singh today said Chief Minister PK Dhumal had made a mockery of cadre management by giving norms and rules the go-by while effecting mass promotions at the top level in the forest department.
5 injured in road accidents
Kangra, August 19
Five persons, including four members of one family, were injured in two different road accidents in Kangra and Dehra subdivisions today.
Rain disrupts life in Kangra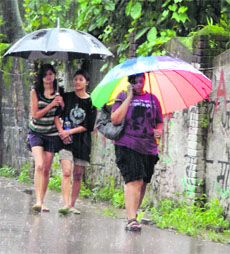 Kangra, August 19
Life was disrupted today following heavy rain. The town had 101 mm of rain. Both Delhi-Kangra Kingfisher flights were cancelled. The Kangra-Shimla national highway was blocked at Sammela and Bathu. PWD Executive Engineer Vijay Kumar said the Kangra-Bhown-Ladwara road was washed away at Badiyara. He added that the Shahpur-Drheni road was blocked.






PWD Executive Engineer Vijay Kumar said the Kangra-Bhown-Ladwara road was washed away at Badiyara. He added that the Shahpur-Drheni road was blocked.

Maintenance of Old-Age Homes
Grant approval to scheme, govt urged
Shimla, August 19
Umang Foundation, an NGO, has urged the government to grant approval to the Draft Integrated Scheme for Aged Persons formulated to prescribe minimum standards for the maintenance of old-age homes before the Assembly poll.
Nepalese woman goes missing
Kangra, August 19
A 42-year-old mother of three children has reportedly been missing. Her husband had lodged a complaint with the local police that Gopal Bhadur, a Nepalese national, had kidnapped his wife, the police said here today.
Truckers oppose multi-axle vehicles
Bilaspur, August 19
Once again within a few months of its earlier majority-verdict against the introduction of trucks carrying heavy load called "multi-axle trucks", the general house of the Bilaspur District Truck Operators' Co-operative Society (BDTS) rejected this proposal by majority vote and decided that there should be no multi-axle trucks in this society for carrying of cement from the ACC factory at Barmana, near here.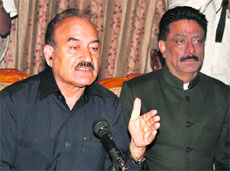 BJP ready for snap poll: CM
Dharamsala, August 19
The BJP is ready for a snap poll in the state, said Chief Minister Prem Kumar Dhumal while talking to mediapersons here today. Setting the agenda of the BJP for the elections, he said they would expose the state Congress for failing to protect the interests of the state.


State Congress president Kaul Singh addresses mediapersons in Shimla on Sunday. Photo: Amit Kanwar

Workshop on burn injuries held
Hamirpur, August 18
The Health and Family Planning Department organised a workshop on burn injuries for health and anganwadi workers at Sujanpur yesterday. Deputy Commissioner (DC), Hamirpur, Rajinder Singh Thakur was the chief guest at this workshop.
Minor girl raped
Kangra, August 19
A 13-year-old girl was allegedly raped by a 20-year-old youth in her house at Chooti Halid village in this temple town when she was alone yesterday. Kangra Sub-Divisional Police Officer (SDPO) Dinesh K Sharma said here today that the minor girl was alone at home yesterday and her father had gone to the market when her neighbour Amit Kumar came and enquired about her father.
Cong to submit chargesheet on Aug 22
Shimla, August 19
The faction-ridden Congress will get into an aggressive mode with the release of the chargesheet against the PK Dhumal-led government, which will be submitted to the President on August 22.
BJP flays Cong for targeting CAG
Shimla, August 19
The BJP has lambasted the Congress for targeting the Comptroller and Auditor General of India (CAG), which has uncovered the coal blocks allotment scam, and said such unwarranted attacks would only undermine the credibility and status of a constitutional body.
Villagers block traffic over youth's death
Solan, August 19
Irate villagers from Bhatoli Kalan village today blocked vehicular traffic on the Barotiwala-Haripur road in protest against lack of action against an electricity contractor after local youth Jagdish Chand was electrocuted while working on an electricity pole yesterday.