Hoods to hide identity of suspected criminals
Kulwinder Sandhu
Tribune News Service
Moga, August 21
Suspected criminals in Moga district, who land in police custody, now no more need to rush desperately to cover their faces to avoid the media glare.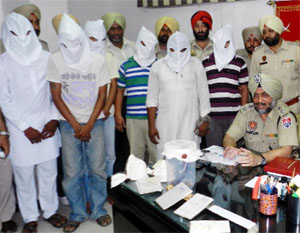 The police has arranged special hoods to cover the faces of suspected criminals. A Tribune photograph
SSP, Moga, Surjit Singh Grewal, has got stitched white cloth hoods to cover the faces of suspected criminals to protect them from public identification, before the identification parade is actually held through legal channels.
Senior police officials maintained that the law requires that the identity of the accused has to be concealed by the investigators till his identification parade is conducted. In case the photograph of suspect is leaked to the media before the identification parade, the defence benefits as it can claim that the witnesses have seen the pictures of suspects in the paper and later identified them.
The members of vehicle lifters' gang produced by the Moga SSP before the media in the presence of DIG Paramraj Umranangal on Monday were asked to wear these hoods with the motive of checking loopholes in the policing system.
A senior police official said the idea is in the process of being adopted across the state to avoid legal hassles during the course of trials.
The lawyers of the accused take this as an advantage to weaken police cases. Lawyers argue that no person could be termed a criminal until pronounced so by a court. "This has resulted in poor conviction rate in the recent past," the police official added.
"The defence gets the benefit but it depends on the circumstances of the case. If a person who is lodging the FIR against any suspect gives his description, then the question of identification parade arises. Otherwise, if an FIR is registered against an unknown person, there is no question of identification parade," said Ramesh Grover, a local lawyer.
Moreover, if the newspaper in which the photograph is published, is circulated within that area and the witnesses and victims are based in some other area, then the court considers that aspect too," said Balwant Singh Ramoowalia, another local lawyer.