A diligent Student
Post his wonderful stint in MTV Roadies 4 and a few television serials, Sahil Anand from Chandigarh will now be seen in an upcoming movie Student Of The Year


At last, we managed to find someone who owes his career to reality shows and numerous auditions that followed later. Sahil Anand from Chandigarh never gave up, neither when the going was tough nor when things were relatively easy! He chased his dream till the end and here he is playing a fat role in an upcoming movie Student Of The Year. Sahil likes to talk and we return with loads of stories!
Road to Roadies: Being part of the reality show MTV Roadies 4 was indeed a turning point in Sahil's life. Modelling is what he always wanted to do, even when he was pursuing mechanical engineering from a college in Tangori, Punjab.
It's a party all week!

Why wait for the weekend to party? Just hit the best places any day and have loads of fun…
It takes a lot to pack a big club on a Tuesday night. But worldwide, many a bars do it right. No wonder some of the popular night-out destinations have an altogether separate list of the best weekday clubs. No matter however crowded, Wednesdays and Saturdays can never break-even for the owners.
People have a good time at a party on a week day in one of the clubs in Chandigarh

Coming soon
Colour of fantasy


The Chandigarh Lalit Kala Akademi is organising a video installations and a power-point presentation of his lifetime work by acclaimed artist Manjunath Kamath. Kamath is a well-known painter, sculptor and video installation artist — one of the most sought after new media artists of the country. Manjunath Kamath is bringing three of his video installations which would be set up at the venue of the event. Apart from these installations, he would be showing slides of paintings, sculptures and other videos during his presentation. His presentations are filled with humour, wit and anecdotes.
My world view is quite humorous. I would like to laugh at things and through this laughter I get into the unrevealed sides of events. This is the same attitude that I take in my video works. I create imaginary situations as in the fables and parables, through claymation models. — Manjunath Kamath, artist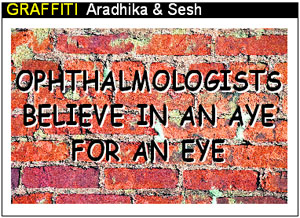 Astro turf
ARIES: Make sure you do your best today. You could be in line for a promotion. Your interest in overseas affairs is likely to stimulate you. You will get lucky in the evening. Take care of your health today. Tarot message: Rivalry and competition would push you to do your best. Lucky colour: Beige. Magic number: 52

The year ahead
If your birthday is August 23...
You will have a clear outlook towards your career. Finances will improve with your wise approach. You will have significant happiness in your personal relationships. Still, there is a hint of little disturbance in professional relationships. Your biggest asset is your sense of humour. You should try and use it to your benefit. Don't spend too much to impress others. Some people will promise more than they can deliver. Be careful as the chances as there may be gaps in your friendships.
Doc Talk
Straight talk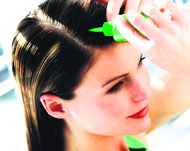 Being creative with hair is something we all like to do. For, hair-do does make a big fashion statement. It can be in the form of hair rebonding, straightening or perming; with the former being a rage these days! Rebonding/straightening is a chemical hair treatment that makes your hair straight, sleek and shiny. While hair perming is a hairstyle produced by treatment with heat and chemicals to give waves and curls to your hair. Basically in all these procedures, the chemical bonds in your hair are broken, rearranged and again bonded back accordingly to the shape you desire.
Chatter box

Exciting times ahead
Television superstar Ram Kapoor is the heartthrob of millions. But what the Bade Achhe Lagte Hain actor is super excited about these days is a film he has just signed! Ram is doing a movie which will have a couple of short stories, one of which will be directed by filmmaker Mira Nair; acclaimed for movies such as Monsoon Wedding and The Namesake. Lifetime Opportunity: Ram Kapoor
Shades of grey
Famous for his role of Rajeev Bhalla in 12/24 Karol Bagh, Indresh Malik currently is enjoying playing a grey role in Madhubala. Here he talks about his role and experience.
How challenging is the role of Bittuji after Rajeev Bhalla?
It is a very challenging role. Playing a grey character is trickier than playing a villain. My character that of a secretary who is very loyal to his boss superstar RK and is willing to go to any lengths for him is fun. He is manipulative, selfish, charming and cunning too.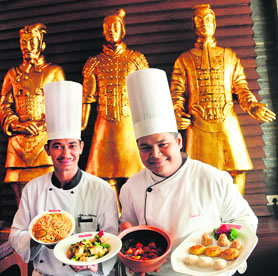 Indulge
A slice of China
Just when we thought the rainy season was over, we are showered with the mercy drops almost everyday. And well if the weather god is being kind, how about making the most of it? How about digging into some authentic Chinese flavours? Mainland China-26 whips up a new menu which has a good mix of vegetarian and non-vegetarian delights. Something spicy, something light, the menu has it all. The vegetarian menu card shows some interesting names that have been created equally interestingly!
Chinese cuisine gets a spicy makeover at Mainland China. Photo: Pradeep Tewari

Getting into the Chakravyuh
Director Prakash Jha, Arjun Rampal, Abhay Deol, Esha Gupta and Anjali Patil unveiled the first look of upcoming political thriller Chakravyuh. Talking about Chakravyuh, Prakash Jha said, "My message through Chakravyuh is to underline the issue of naxalism, the tragedy that is unfolding in various parts of the country today. And I think if you diagnose any problem by studying it very well, you will get its solution too."
Maid of honour
Holywood star Nicole Kidman is set to be honoured at the 50th Annual New York Film Festival. Being dubbed 'one of film's finest contemporary actresses', the Oscar-winner will be honoured with a gala tribute at the event on October 3, reported a website. Her latest movie The Paperboy is also included in the festival's main slate.
Coming soon
For a beautiful wedding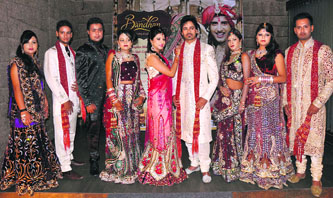 The festival offers traditional Indian as well as western dresses for brides and grooms
A three-day exhibition on wedding arrangements is going to be held at Hotel Bella Vista, Sector 5, Panchkula. The exhibition will offer Indian bridal dresses as well as western alternatives such as western dresses, night wear, party wear and so on.
Dress rehearsal: Models showcase the wedding collection

Joan okay with Cheryl's boyfriend!
Former Girls Aloud star Cheryl Cole's mother Joan Callaghan is impressed by her daughter's new boyfriend Tre Holloway. The 29-year-old Promise This hitmaker has embarked on a romance with American dancer Holloway and he has been given the seal of approval by her mother, who had a strained relationship with her daughter's ex-husband Ashley Cole, reported a publication online.
Going the 'Indi'genous way
After the success of Jism 2, Sunny Leone has become a household name. The actress has also been flooded with offers from several filmmakers. As announced earlier, she has started to prepare for Ekta Kapoor's upcoming film Ragini MMS 2.


Home sweet home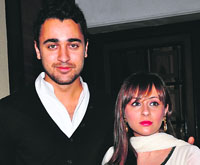 Avantika Malik and Imran Khan have been living in an apartment in Bandra because their bungalow at Pali Hill was under renovation. So they will move in during Diwali.

House warming: Imran Khan with Avantika Malik
Dimple: Rajesh had the DNA of a superstar
For the first time after Rajesh Khanna's death, his estranged wife Dimple Kapadia opened up about the time she spent with him. She said he was special and destined to be a superstar.
Showers of blessing
Unlike other actors who visit dargahs or shrines of Muslim saints to seek blessings for the release of their films, actor Emraan Hashmi visits the popular and revered Mahim Dargah in Mumbai only to seek blessings. He asked his publicist not to invite the media there too. This guy does things his own way!



Head over heels
Kangna Ranaut fell and injured herself on the sets of Krrishh 3 in Paris. She was joking around with the crew members and tried a stunt without the appropriate costumes and equipment. So she fell and hurt herself but started laughing at her own foolishness. The promo of Ajab Gazab Love starring Jackky Bhagnani has received 1.5 lakh hits in just two days! It was released online and went viral. So the makers are delighted. Apparently, the film is good.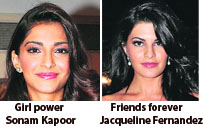 Mutual admiration club
Sonam Kapoor and Jacqueline Fernandez have become fast friends. They started bonding because of Anil Kapoor who is working with Jacqueline on Race 2. The girls share an interest for all things fashionable and are fitness enthusiasts and foodies. Sonam sent her cupcakes on her birthday.
Katie Homes, Tom Cruise officially divorced
The five-year marriage of Tom Cruise and Katie Holmes is officially over after a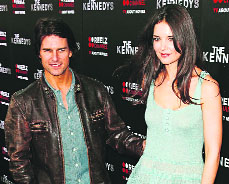 judge granted them divorce. The couple's divorce case was closed on Monday, according to court records, a news channel reported. The news comes just a month-and-a-half after the 33-year-old Holmes shocked Hollywood and Cruise by filing for divorce and seeking sole custody of daughter Suri. The former couple, however, worked out a settlement in a matter of days. — PTI
Split wide open: Tom Cruise and Katie Holmes in a file photo

The actor with the director's hat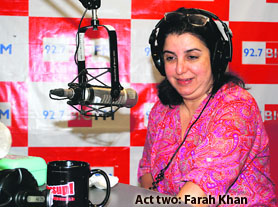 Farah Khan recently has been speaking only about her upcoming project Shirin Farhad Ki Toh Nikal Padi. She said that while the film is scheduled to launch next Friday, she is also longing to get back to her project Joker which is going to launch a week after. She also openly revealed that she does not want to act anymore and is waiting to get back to directing which is far easier and that she will act only in Shirin Farhad Ki Toh Nikal Padi Part 2. In response to this, Bela Bhansali Sehgal, the director has also confirmed that part two of the film will be made for sure.