BJP walks out of JPC meet
New Delhi, August 22
All the members of the main Opposition party Bharatiya Janata Party (BJP) today staged a walkout of a Joint Parliamentary Committee (JPC) meeting on 2G Spectrum allocation, demanding deposition of Prime Minister Manmohan Singh and Finance Minister P Chidambaram before the committee.
geetika suicide
MDLR Group's 3 women ex-staffers on police radar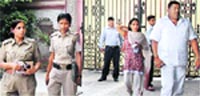 New Delhi, August 22
Delhi Police is gradually casting its investigating net wider in the Geetika Sharma suicide case.

A Delhi Police team comes out after conducting a search at Gopal Kanda's Gurgaon residence on Wednesday. — PTI
Positive shift: Sharp decline in infiltration bids in J-K


New Delhi, August 22
Indicating a positive change in the situation in Jammu and Kashmir, Parliament was today informed that there has been a drop in number of cross-border infiltration. Figures show that a lesser number of Pakistan-based militants have been making attempts to cross the Line of Control (LoC).