Waning Punjabi traditions
Modernisation has taken toll of the values that were prized in the land of five rivers
Amar Nath Wadehra & Randeep Wadehra
Consider these two episodes from two different villages in the pre-Partition
Punjab circa early 1930s: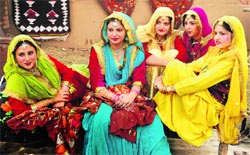 Episode1: A huge baraat reaches a village with scores of bullock-carts, horse-carts and raths (decorated bullock-carts) loaded with baraatis. In the absence of marriage palaces and five-star hotels, the guests were accommodated in the local gurdwara and dharamshala. But, the number of guests was too large. Therefore, those left out were taken into their homes by the villagers. Every family in the village was involved in extending hospitality to the guests, who would be staying for the wedding ceremony that lasted about a week.
No longer a melting pot
For every 100 people in America, 90 have guns, making it the most armed nation in the world. With a strong gun lobby and protective gun legislation, US has the highest guns per capita in the world
Kudrat Kahlon
Shortly before 10:30 a.m. an armed man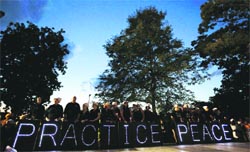 walked into a gurdwara in Milwaukee, Wisconsin, and ruthlessly killed six at gunpoint. He sported a 9/11 tattoo in remembrance of the suicide attacks that took place on September 11 carried out by Islamic fundamentalists. Many, who sport such a tattoo, post the tragic event do so out of remembrance of a lost loved one, but the shooter defamed their memory with his act of violence.
Sikhs gather for a vigil in Oak Creek, Wisconsin. The killings of six worshippers at a gurdwara in Wisconsin has thrust attention on 'white power music', a thrashing, punk-metal genre that sees the white race under siege Photo: Reuters

Veiled beauty
Real Taiwan has been hidden from view of the Indian visitor even as the island holds out immense promise for tourists from the subcontinent, especially for families with children
Rakhshanda Jalil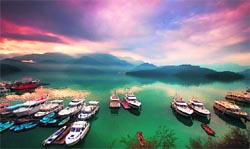 There is the Taiwan of popular imagination: an economic giant despite its tiny size, an Asian tiger revelling in its formidable clout, an export-driven economy churning out cheap commodities ranging from computers to shoes. But there is another Taiwan too, one that has been hidden from view of the Indian visitor, who has so far comprised either the business traveller or, in recent times, the yuppy 'incentive' tourist.
The aquamarine Sun Moon Lake in the centre of the island, ringed by green hills, is like a magical lost land, straight out of a fairytale
HEALTH capsules
Childrens' self-control linked to lower weight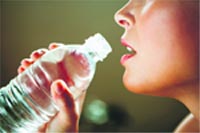 Exercising some self control and delaying gratification for longer periods among children at four years of age is linked with a lower body mass index (BMI) as adults 30 years later. Between 1968 and 1974, 653 four-year-olds completed a delay of gratification test, in which they were given one treat, such as a cookie, and were told that they would be given a second treat if they could wait to eat the first treat for an unspecified length of time (it ended up being 15 minutes).
Hail Haryana & don't blame cricket


A huge credit should go to Haryana for India's six-medal haul in London, as four of the six medallists hail from the state
M. S. Unnikrishnan
Hail Haryana for India's rise in Olympic sports, and blame not cricket for all the ills of Indian sports! Whenever India lifted a medal in the London Olympics, and some others failed, despite coming close, the game that got flogged back home was cricket and the Board of Control for Cricket in India (BCCI).
Haryana's Sushil Kumar. The state's thrust on the sports popular in its villages like wrestling, boxing, athletics etc. has paid rich dividends
Celebrities as Role models
The public expects stars to behave in a socially responsible manner both off and on the screen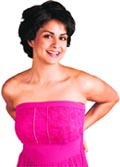 Swati Rai
countless youth icon awards by music channels, magazines and business houses will have us believe that stars are the best bet at being role models. The ground reality, however, is far from what makes the happening crowd least role model variety! Saif Ali Khan in a restaurant brawl, Luke Pormsbarsch's 'off field' antics during the IPL, SRK's violent outburst at the Wankhade Stadium, young cricketers caught attending rave parties makes for a good copy but bad examples!The big question is can celebrities be role models both off and on the screen, field or podium?
Gul Panag
Discordant notes
Connoisseurs often have to bear the burden of ego scuffles between singers and music directors
M. L. Dhawan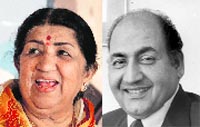 Ego clashes between singers and composers while presiding over various music talent hunt shows on television are nothing less than dogfights. Unfortunately, they do not realise that in the public eye, their stature gets diminished. Since the arrival of sound in cinema, the ego scuffles have been in plenty and one can safely arrive at a conclusion that when the mighty egos in music collide, the sound of the music is not always harmonious to the ear.
Mohammed Rafi often referred to Lata Mangeshkar (left) as Maharani, which didn't go down well with her