Astro turf
P Khurrana

ARIES: Don't lose hope whatever the situation is at present. Keep in mind that situations change and lucky breaks can be just around the corner. Try to increase your knowledge in new areas. Tarot message: Lack of confidence can leave you in losses; so be confident. Lucky colour: Coffee. Magic number: 28

TAURUS: Take criticism constructively and accept praise graciously. Make the most of this low-key day because there is plenty of work in store.

Tarot message: Don't make hasty decisions as it could lead to a waste of time and money. Lucky colour: Burgundy. Magic number: 61

GEMINI: Your chivalrous behavior and sentiments strike the right note with lovers. Pack up your all cares and woes and have a good time. When working alone, you will fare best.

Tarot message: Don't waste an opportunity by being rash or impulsive. Lucky colour: Golden brown. Magic number: 33

CANCER: Browse the newspaper for that dream job because you just may find it. Arguments at home are likely to erupt. Career women will be in the lime light. Be a little more tactful and considerate. Tarot message: Learn from past experiences to avoid making a similar mistake again. Lucky colour: Beige. Magic number: 28

LEO: If you have been feeling house bound, arrange an outing with your partner. Refuse any new assignments. Loved ones are unlikely to make special demands. Tarot message: Be articulate to prevent people from making their own conclusions.

Lucky colour: Peach. Magic number: 65

VIRGO: Show your love to those close to you through action rather than empty promises. Be careful while signing agreements. Family members may require your assistance. Tarot message: Dare to accomplish those tasks, which normally take up a lot of time. Lucky colour: Yellow.Magic number: 27

LIBRA: If something is already on your calendar, postpone it for a later date. Time to impress your boss.You will be feeling competent to deal with work that requires creativity. Consider your options with great care. Tarot message: Don't do anything at the cost of health. Lucky colour: Forest Green. Magic number: 39

SCORPIO: You are in a cheerful mood today. Decisions may involve a journey overseas. Older people: Take care of your health. Domestic bliss will be of high order.

Tarot message: Make compromises outside and come to terms within yourself. Lucky colour: Deep red. Magic number: 25

SAGITTARIUS: Women: You will have the money to shop to your heart's desire. Think about the cost of the family budget next time you spend on entertainment or luxury items. Those interested in modelling will get a suitable break. Tarot message: Lack of confidence can leave you in losses. Lucky colour: Pink. Magic number: 44

CAPRICORN: Household expenses and the mortgage seem to be pretty well covered now. But pleasurable indulgence might be eating into domestic expenses. Ignore unpleasant gossip. Tarot message: You shall prevent a lot of trouble by taking timely action. Lucky colour: Black.

Magic number: 55

AQUARIUS: Investments in property may be possible. A detailed accounting process lets you know what you can afford in the present situation. You may neglect your health due to busy schedule. Tarot message: Be positive and think carefully before taking action. Lucky colour: Purple. Magic number: 64

PISCES: Make the day a really enjoyable one and forget about the work. Some of you may have lost interest in career ambitions. Students interested in competitive sports may be selected for their school team. Tarot message: Do not swing away from the course you have charted so far. Lucky colour: Orange. Magic number: 46

The year ahead
Madan Gupta Spatu

If your birthday is August 27...

Nature has bestowed remarkable confidence and intelligence on you- so use it to its best. Put your extra money in a safe place and that will promise you returns in times to come. You will also make important contacts through friends. Your beloved brings you immense romantic pleasure even as work pressure occupies your mind. Correspondence needs to be handled with care. Because you were born on August 27, the deity that watches over you will help guide you through your moments of struggle and inner turmoil, giving you strength and courage to overcome even the most trying times.

If ever there are times you feel weak or discouraged, with the help of God, you will be able to put everything back into perspective and focus. The combination of 2 and 7 adds a tone of selflessness and humanitarianism to your life path. If triggered, emotions can be volcanic and a seemingly meek personality can resort to bullying tactics, when unhappy. Business: A co-worker seems a little too interested in your business. Instead of losing your temper, exercise your sense of compassion even as you set some boundaries. If you can, unwind and live without losing the sense of reality. If this is your first job, you'll be encouraged to set new targets. Try not to overdo things or rush. It would be a favourable year for education and exams related matters. You will perform better than expected. Positive results will bring a magical smile on your face. Pre-planning and hard work is recommended.

Your patience may wane drastically, especially with old issues, foolish behavior, uncooperative elders, stubborn personalities and short fused Gemini or Pisces members.

Exciting events may be on the horizon, but they can happen fast, and if you blink, you can miss them. Get ready for fun. Milestone 'celebrations' may be the reason, especially weddings, births and holiday. Mood: Emotional and impatient. Compatible signs: Taurus, Virgo. Lucky colours: Sky blue, Aqua green. Lucky days: Thursday and Saturday. Lucky numbers: 4, 8, 13, 41, 48. Lucky flower: Dahlia. Lucky gemstone: Jasper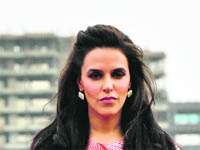 Neha Dhupia (August 27, 1980, Cochin) is winner of Femina Miss India 2002. Gandhi to Hitlor is her latest film. Dhupia started her career with a play in New Delhi called Graffiti. She began appearing in Bollywood films starting with Qayamat: City Under Threat, a box office success. She had films like Sheesha, Kyaa Kool Hai Hum and Shootout at Lokhandwala, Chup Chup Ke, Ek Chalis Ki Last Local, Mithya, Maharathi, Singh Is King ,Dasvidaniya, Paying Guest, De Dana Dan, Action Replay. Neha's stars and current astrological period indicate endless awards in next five years.