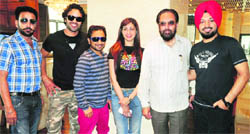 A leaf from life
When it's a Manmohan Singh film, the questions extend beyond the stars, the rest of the cast, the movie or even the making! His brand name inevitably clouds the banner and the conversation becomes a discussion on the future of Punjabi cinema.
(L-R) Darshan Aulakh, Aman Dhaliwal, Rana Ranbir, Gurleen Chopra, Manmohan Singh and Gurpreet Ghuggi
Housing a legacy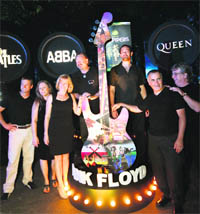 They couldn't believe it for a minute, but the crowd enjoyed every bit of their performance . They hadn't expected this. The seven members of the band House of Floyd are more than happy with the response they got from their first-ever performance in India at the Chandigarh Golf Club. House of Floyd is San Francisco's immersive Pink Floyd tribute band, carrying the 'live' paraphernalia of the original band — engulfing sound effects, lasers, fog, surround sounds and videos that make Pink Floyd's sets popular. Formed by Mark Showalter almost seven years back, this is now a seven-member band of people who are passionate fans of Pink Floyd.
Members of the band House of Floyd
Stitch by stitch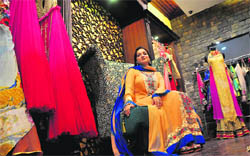 Winsome and charming Supriya Jain entered the field of designing by sheer chance more than two decades ago, but today she is doing Ludhiana proud by being counted among leading designers of North India. Known for ushering in the Indo-Western look, her 'Rose Creations' specialises in formal-wear. "I have clients who really admire the gowns and cuts worn by celebrities at the high-end parties; I tried to give them the same look and I think I have succeeded," she smiles.


Try, try and you shall succeed