Child abducted from Mumbai found in Haridwar


Haridwar, September 6
The Haridwar police today recovered a child who was kidnapped by his neighbour on April 21 from Mumbai. On a tip-off, the Haridwar police found the abducted child, Lav Kush Jha (10), with the abductor Ram Kumar Jha at Suman Nagar in Ranipur-BHEL.
Quota in Promotions
BJP, Cong accused of dividing employees
Dehradun, September 6
The Uttarakhand Raksha Morcha has accused both the Congress and the BJP of dividing employees on the issue of quota in promotions.
CM: State govt committed to public welfare
Dehradun, September 6
Chief Minister Vijay Bahuguna has welcomed the decision of some of the agitating workers' unions to defer their strike and office boycott.
Sectt SC/ST staff call off strike
Dehradun, September 6
The Uttarakhand Secretariat SC/ST Karamchari Adhikari Sangh, favouring quota in promotions, today called off it's strike in support of the Central government's decision to table the amendment Bill in the Rajya Sabha yesterday, but, dissatisfied with the Uttarakhand government's set of decisions, the members would now stage token protests at the Clock Tower.
Folk dance competition at DPS, Dehradun
Dehradun, September 6
Delhi Public School organised an inter-house folk dance competition here today. Students of classes I-III performed folk dances from various states of the country. Students of the Kalam house performed on traditional Marathi number and bagged the first prize.
SP members call on Governor
Dehradun, September 6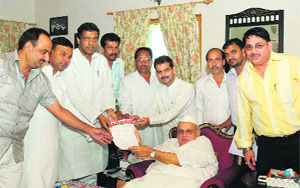 A nine-member delegation of the Samajwadi Party called on Uttarakhand Governor Dr Aziz Qureshi today and drew his attention to several issues related to the state. The delegation, led by SP state president Vinod Barthwal, submitted a letter to the Governor regarding the issues like promotions, making Gairsain the summer capital of Uttarakhand

A delegation of the Samajwadi Party presents a memorandum to Governor Aziz Qureshi in Dehradun on Thursday.

Axing of trees goes unabated in Doon
Dehradun, September 6
Green trees continue to be causality in Dehradun despite repeated efforts on part of green activists to curb felling on unconvincing grounds.
Teachers leave college, students hold protest
Pithoragarh, September 6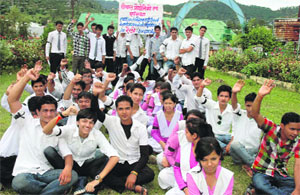 Students of Seemant Engineering College in the district, which was opened recently, today took out a silent procession from the college to the District Magistrate's office demanding that the classes be held regularly. The college would remain closed till September 24 as many teachers had left jobs.
Students of Seemant Engineering College stage a demonstration in support of their demand for regular teaching in Pithoragarh on Thursday.

Almora people pay tributes to martyrs
Pithoragarh, September 6
Whereas the entire nation paid respects to teachers on the occasion of Teachers' Day on September 5, the people of Almora remembered those martyrs who laid their lives for the nation, when the British opened fire on them at Khumar on September 5, 1942, following Gandhi's call of 'Bharat Choro'.
DMC office wears deserted look; top officials found absent
Dehradun, September 6
The Dehradun Municipal Corporation office wore a deserted look today as none of the higher officials attended office. Mayor Vinod Chamoli is away to Delhi since yesterday. Mukhya Nagar Adhikari (MNA) Ashok Kumar, too, remained absent. Additional Mukhya Nagar Adhikari Sadia Alam is on leave for more than 15 days.
Change accounting system in local bodies: Secy
Dehradun, September 6
Secretary, Department of Urban Development, Uma Kant Panwar today said along with the accounting system, the entire work culture in the local bodies was in urgent need of change.
Collectorate staff call off stir
Dehradun September 6
The Collectorate Employees Association today called off its strike after District Magistrate Ravinath Raman accepted all their demands. The strike began on Wednesday.
Students told to maintain discipline while campaigning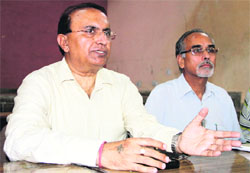 Dehradun, September 6
In the run-up to the Students Union Elections at the DAV (PG) College, Principal Devendra Bhasin today asked the candidates and their supporters to maintain discipline while undertaking election campaigning inside the college campus.

Dr Devender Bhasin, Principal of DAV (PG) College, addresses a press conference in Dehradun on Thursday. Tribune photo: Vinod Pundir
Governor gives Rs 11 lakh for guest house
Dehradun, September 6
Uttarakhand Governor Dr Aziz Qureshi has presented Rs11,11,111 from the Governor's Discretionary Fund as contribution towards the construction of a guest house for pilgrims at Sarwar Sharif, the Dargah of Hazrat Khwaja Fakhruddin Chishti, son of Khwaja Moinuddin Chishti near Ajmer.