War of words between Cong, BJP
Land allotted to them for their offices by Jalandhar Improvement Trust
Dharmendra Joshi
Tribune News Service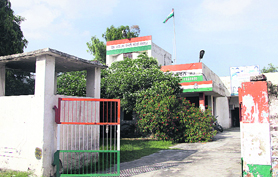 The Congress Bhawan in Jalandhar. Photo: Sarabjit Singh

Jalandhar, September 17
The war of words between the Congress and the BJP over the land allotted to them for their offices by the Jalandhar Improvement Trust (JIT) is not dying down. A day after the claim of Congress leaders of depositing the entire amount with the JIT of the plot allotted to it in 1970s, the BJP district president advocate Subash Sood told The Tribune on Sunday, "The Congress leaders are lying, as the JIT record shows that it did not deposit even a single paisa against the land allotted to it."
Advocate Subash Sood said, "Neither the Congress deposited any amount with the JIT nor it got the site-plan sanctioned for constructing the shops. On the contrary, it is earning at least Rs 1 lakh as rent from the shops constructed without getting any sanction of the site-plan on the land allotted to it."
Answering another a query, he said, "He had not committed contempt of court. I am an advocate and I have just raised some points which the DC (who has been asked to probe the matter by the Punjab and Haryana High Court) should take care of while conducting the inquiry."
In reply to a question of the demand by the Congress of taking back the land allotted to the BJP at a throwaway price, he said, "There is a provision of allotting land at cheaper rates to social organisations and the Congress had also been allotted the land on the same grounds, but it did not pay any amount, whereas BJP paid the entire amount and we would soon submit a site plan before starting the construction."
Earlier on Saturday, the Congress demanded that the 4-kanal land allotted to the BJP at one-fourth of the reserve price at Surya Enclave for building its office should be withdrawn.
Claiming that the JIT allotted the 4-kanal land at Surya Enclave for a net amount of nearly Rs 56 lakh (Rs 70,000 a marla), the District Congress (Urban) president Arun Walia said the land had been allotted to the BJP at a throwaway price as the rate of 1 marla is over Rs 5 lakh at Surya Enclave.
Walia said the land allotted to the BJP should be taken back and should be given to the family of any soldier who sacrificed his life for the country.
Arun Walia and district Congress senior vice-president Kanwal Raj Sachdeva denied the charges levelled by the BJP district president advocate Subash Sood, who had held a press conference on Friday, alleging that the Congress had not deposited the amount with the JIT in lieu of the land allotted to it and it was using a portion of the land for commercial purposes after constructing several shops and giving them on rent.
District Congress senior vice-president Kanwal Sachdeva said, "The Congress had deposited the entire amount of Rs 16,915 in lieu of the 28-marla plot located at Rajendra Nagar allotted to it in 1970s and submitted a site plan for constructing shops on a portion of the land to the JIT."
The Congress leaders said, "The 28-marla land at Rajendra Nagar was allotted to the Congress in lieu of Rs 16,195 payable in four instalments of Rs 4,229 each and the same was deposited, he said, adding that a site-plan was also submitted to the JIT for constructing shops later.
Protest by YC activists
Several youth Congress activists, led by its central constituency president Sakait Singh Goraya, held a demonstration at Sangat Singh Nagar against BJP district president Subash Sood for demanding taking back the land allotted to the Congress.