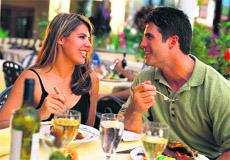 Eating in tandem
A man is known by the company he keeps, true in many cases. Here's another one - you eat what your companion eats! A recent study has claimed that dining with someone who always goes for the unhealthy option makes you more likely to give in to temptation as well. Meanwhile, a friend or partner who always turns down the unhealthy options in exchange of healthy salads can encourage you to follow suit.
Bright & Bustling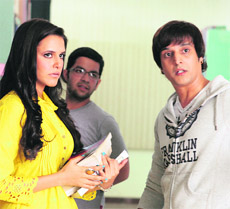 It is like a forest fire, spreading fast. But contrary to its nature, this one is giving back a whole new world of entertainment followed by more entertainment! Called the Punjabi cinema, this new, fiery movement is getting people from far, as far as Bollywood. The latest one to willingly, gladly and excitedly take the plunge is actress Neha Dhupia as she makes her debut in Punjabi cinema with Jimmy Sheirgill Production's Rangeelay. And starring opposite her is none other than Bollywood actor Jimmy Sheirgill, who has raised the bar of Punjabi cinema with his youth-oriented films and family entertainers.
TWO'S COMPANY: Neha Dhupia & Jimmy Sheirgill

Punjabi Tadka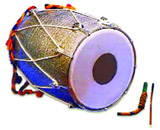 Like a dream
He wouldn't ask God for more as the biggest gift for him is music, and Punjabi singer and actor Preet Harpal is getting a chance to live it to the fullest. His song Maa pey kehndey judge bann topped the Punjabi chartbuster, and being played in every discotheque. As an actor, Preet showed versatility in the Punjabi flick Sirrphire, and today he wants to explore more of life and his talent. He gets candid.
weight watch


Eat to lose
The biggest challenge when it comes to losing weight is controlling your appetite. Fortunately, there are many healthy foods that can curb your appetite naturally. Incorporating these health foods will banish hunger pangs and recharge your metabolism. So, snack on these healthy foods to stay full while eating fewer calories!
A delightful wok
Just as you enter Bella Asia at Bella Vista, a gush of aromatic dips and sauces intoxicate your senses. The jumbo prawn, stuffed with various Chinese delicacies sits on the shelf as Chef Duddi Reny Manohar garnishes it carefully. "We want to introduce Chandigarh to better Chinese like lobsters and salmon," he says. Bella Vista's food festival Wok Of Life, a feast from the West, features cuisine from China, Thailand and everything Oriental.
star track
For women, by a woman
Model-actress Kelly Brook says she has put in a lot of effort to design garments for her collection for high street retailer New Look. The 32-year-old said she has tried to keep the "real women" in mind while creating the clothes as she wanted the line to be practical, flattering and affordable, reported a website. "I wanted to design for real women with real budgets. Girls should celebrate their curves and feel confident and sexy."



Amitabh Bachchan's all-time favourites


Bold and daring act


Pooja's miffed


Bollywood on cards?


Around the world with Drew Barrymore


Pink wants more kids


Salman takes a stand for Emraan
chatter box
Staying fit and fab
Actress Neha Desai shares her fitness mantra and eating habits



Privacy please!


TV can wait


No Bigg Boss for Kushal
New Release
Heroine
Producer: Madhur Bhandarkar, Ronnie Screwvala, Siddharth Roy Kapur
Director: Madhur Bhandarkar
The stage is set for a Madhur Bhandarkar's keenly-awaited film Heroine in which Bollywood's most versatile actress Kareena Kapoor plays the lead role.