star track

For women, by a woman
Model-actress Kelly Brook says she has put in a lot of effort to design garments for her collection for high street retailer New Look. The 32-year-old said she has tried to keep the "real women" in mind while creating the clothes as she wanted the line to be practical, flattering and affordable, reported a website. "I wanted to design for real women with real budgets. Girls should celebrate their curves and feel confident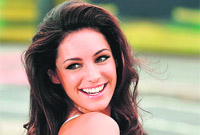 and sexy."
"From the peplums to the sculpted bust details, everything is considered. I've catered for all body shapes. Even in the fittings I would say, 'How do I wear lingerie with that?' I aimed for the ultimate flattering fit," she said. —PTI
being practical: Kelly Brook
Amitabh Bachchan's all-time favourites
1 Gone With The Wind: A great novel, epic proportions, exquisite performances especially Vivien Leigh; a grand saga and the finest interpretation from a book to a film I've ever seen.
2 Kaagaz Ke Phool: A poignant and incredible theme; most lingering visuals, music, performances and the ethereal Waheedaji. She's my favourite.
3 Black: This film changed my life. It connected me with feelings that I didn't even know existed within me. Sanjay Leela Bhansali is an absolute magician on screen.
4 Judgment At Nuremburg: I have always had a fascination for films about the Nazis and the World War II. This was a film on the courtroom trial for the war criminals. I remember it mainly for the excellent and haunting performance of Montgomery Clift in a small cameo.
5 Scarface: The brilliant performance of Al Pacino elevated this gangster epic to the level of a quasi-classic.
6 Godfather I/II/III: A complete classic, I loved all three parts, the growth of the film, its characters, the premise, the naturalness of the presentation and above all, Marlon Brando's towering performance. The trilogy is so engrossing and everything is perfect about it.
7 Ganga Jamuna: Dilip Kumar Sahib's greatest performance ever; the setting, story, everything was unusual.
8 Anupama: I just loved the softness and simplicity of the film, its unexaggerated performances. It had a lyrical quality about it. This was a film by one of my favourite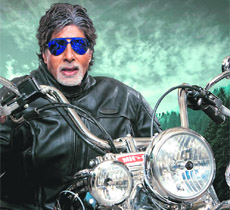 directors, Hrishikesh Mukherjee.
9 On the Waterfront: Dynamic story, Brando at his best, so real and compelling, like The Godfather, this film created huge stars out of even those who played small and seemingly insignificant roles.
10 Giant: Absolute dynamite, the ultimate story and casting; and that wonder called James Dean. — HRM
Movie buff: Amitabh Bachchan
Bold and daring act
Pakistani starlet Veena Malik poses for a raunchy photo shoot for her upcoming B-grade movie titled, Supermodel. In the movie, Veena Malik is playing a supermodel and the photo shoot shows Veena in an animal prints outfit which is very revealing exposing her secret assets.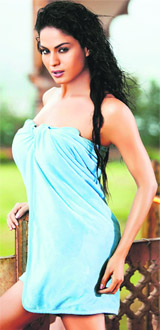 Speaking about the film, Veena said, "When it comes to the concept of Supermodel, then it's naturally lot of glamour, fashion and such things that come to your mind. Of course, I would say this is the requirement of the character, but when it comes to Supermodel, it is a complete entertaining film with all the essential elements".
"There are going to be lot of emotions in it. It is a fashion and glamour-related film, but you will also see a lot of emotions in it. So whatever the clothes I am wearing and the kind of look I am sporting, it is a part of the film and was required for the character," she added.
Veena will be starred opposite her ex beau Ashmit Patel in the movie. Supermodel is being produced by Ravi Ahlawat and directed by Navin Batra. Veena Malik said, "Today I feel like a supermodel. The photo shoot which I have done it reflect the glamorous part of supermodel movie. It's just a spark to catch the fire. Yes I am the only supermodel." Veena's bold photo shoot is a part of the movie promotion.

Role model: Veena Malik
Pooja's miffed
Despite the fact that there has been no official announcement from the Bhatts, the news about Dil Hai Ke Manta Nahin's remake has been doing rounds for quite some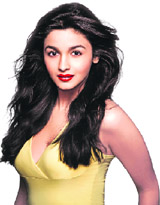 time. The latest is Pooja Bhatt's younger sister Alia, who makes her debut in Karan Johar's Student Of The Year, is going to play the female lead whereas Ranbir Kapoor will play the hero.
But apparently, none of it is true. Pooja clarified, "Media needs to shoot the 'source' that claims I'll be announcing Dil Hai Ke Manta Nahin with Alia and Imran/Ranbir on my father's birthday on September 20!
Majority of the media is so keen to break a story nobody has the time or inclination to verify that story. Credibility is not a priority."

Rumour mill: Alia Bhatt
Bollywood on cards?
Hollywood's reining star Brad Pitt missed the opportunity of romancing Indian beauty Aishwarya Rai in "Troy", but with the growing presence of Indian films on the world stage, he says he might just decide to surprise fans by grooving in true Bollywood style any time.
"Indian cinema seems to be growing very well at its own pace. I would love to work in a Bollywood film as there is so much drama and colour in the films there," said Pitt.
"The film-making, I hear, has evolved a lot in India and of late we have witnessed some good films making a presence at the Oscars and the world stage," added the actor. The presence of Indian films and their artists has witnessed a boost in the western world in recent times. International premieres, opportunities for actors like Amitabh Bachchan, Anil Kapoor and Irrfan Khan, as well as A.R.Rahman's Oscar-winning feat for Slumdog Millionaire have drawn international interest in India's cinematic offerings. "That tells you a lot about the quality of the actors and the films. You never know when I might decide to work in a Bollywood film and do one of those dance numbers with the whole crew in the backdrop," quipped Pitt, who shot in the country for 2007 movie A Mighty Heart.
The 48-year-old actor, who has been named among the sexiest men in the world multiple times, is especially fond of former Miss World Aishwarya. He says he is open to working with her. "Given a chance, I would like to work with Aishwarya Rai Bachchan because she's a versatile actor. She has worked brilliantly in films like The Mistress of Spices, The Last Legion, The Pink Panther 2 and Provoked to name a few," said Pitt.
"She is one of the most popular actresses of Bollywood, who has achieved huge acclaim in the west for her style, beauty and acting skills. I think we missed an opportunity to be cast together for the movie Troy," he added.
Aishwarya was reportedly offered to essay the historical part of Briseis, but she turned down the offer by director Wolfgang Petersen. Troy, released in 2007, continues to be one of Pitt's best performances till date. Meanwhile, Pitt has finally decided to enter wedlock with his lady love Angelina Jolie, with whom he makes up the popular 'Brangelina' brand. The couple has six children. Though his wedding date is yet to be fixed, the actor has wished India's 'Saifeena' - Saif Ali Khan and Kareena Kapoor - all the best for their D-day next month.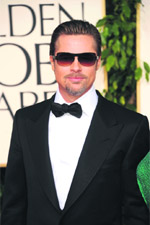 "To be honest, I really think Saif and Kareena can be called Bollywood's sexiest couple so far. I am glad to know they are getting married soon. I wish them all the success for a happy married life," he said.
Pitt is currently eager for the release of gangster movie Killing Them Softly, set to hit the screens on October 5.
"Killing Them Softly has a political agenda - one that it isn't too keen on hiding. It is an adaptation of a George V. Higgins novel about two low lives who make the unwise decision to rob a mob-funded card game and the hitman tasked with taking them down," he said of the movie. —IANS

Looking eastwards: Brad Pitt
Around the world with Drew Barrymore
Actress Drew Barrymore loves travelling around the world and says she would love to be a travel writer someday.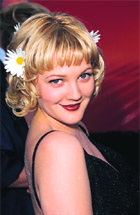 The 37-year-old, who is married to actor Will Kopelman, is expecting her first child with him, reported a website.
"I want to do it all. I love films, but I also love wine, food and travel. I would love to be a travel writer. I'd be so stoked. I think it's nice to do what you really love in life, occupationally and recreationally," she said. The actress also said she is quite fond of kids. "I will be so surprised if they don't want to do something involving food or wine or art, but I'll be okay with it. I just want to build fun, great things for my family," Barrymore added. The actress married Kopelman in June at her Montecito, California estate. — PTI

Travel diaries: Drew Barrymore
Pink wants more kids
Singer Pink says she would love to have another baby but knows now isn't a good time because of her touring commitments.
The 33-year-old is desperate for a sibling for her 15-month-old daughter Willow as she begins a tour in support of her new album The Truth About Love in February 2013, reported a publication.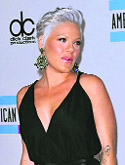 Pink, who is married to motocross star Carey Hart said, "I mean if I weren't going, getting ready to go on tour, I'd be pregnant. I'm barefoot and pregnant in my garden with an attitude." Although she wants another baby, Pink said that her last pregnancy made her full of rage.
"They were infected with the rage virus and that's what I had. I didn't battle morning sickness, I didn't have cravings. I had rage," she said. — PTI

family planning: Pink
Salman takes a stand for Emraan
Emraan Hashmi, who is riding high on the success of Raaz 3, is the most underrated actor of the present generation, says Bollywood star Salman Khan. Emraan's box office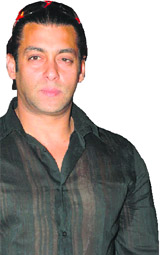 success ratio was recently compared to Salman's, as he has earned a thumbs up with most of his recent films, including Once Upon a Time in Mumbaai, Murder 2, The Dirty Picture, Jannat 2, Shanghai and most recently, Raaz 3. "Emraan Hashmi is the most underrated actor and now he should get his due. He has given hit after hit. He is damn good as an actor. I really like him," Salman said during the music launch of Ishkq In Paris. Salman, who launched the film's music, was at his wittiest and bullied everyone on stage, including actress-producer Preity Zinta, actor Rhehan Malliek and director Prem Raj. Salman shot a special song titled Kudiye di kurti for the film with Preity, and the actress says she was stunned to see his professionalism. "I have worked with Salman Khan in tons of films, but when he came on sets, he asked the choreographer to show the steps. Then he said 'Let's go for a take', and he did it perfectly on the first take itself," she said. "He is super professional." — IANS

Appreciation club: Salman Khan