last word
Sridevi
Return of the showgirl
For 15 years Sridevi was away from the limelight, only to return to a standing ovation for her comeback film English Vinglish during the Toronto Film Festival
By Nonika Singh
SHE came, she saw and she continues to conquer. Once a superstar, always one — no one proves it better than Sridevi. Riding high on her comeback vehicle English Vinglish, she zooms straight to the Toronto International Film Festival, where her film was not only premiered, but also won a standing ovation. While the audience couldn't stop clapping for 10 minutes, she was immediately hailed as the Meryl Streep of India.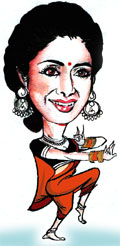 A flattering comparison by all means, but the actor doesn't take it seriously. She is floored, but says in her usual unassuming manner: "I have a long way to go." Indeed, she has come a long, long distance. From a child artiste, sultry "thunder thighs", undisputed queen of tinsel town to a style diva who looked resplendent in a Sabyasachi black and white sari at the red carpet event in Toronto, Sridevi has metamorphosed more than once.
If with Himmatwala, the film that made her a star in Bollywood, she set the trend of typical Southern-style dancing, years down the line, she made the saree a rage with Kaate nahi kat te yeh din. With this number from Mr India high on the sensuousness quotient and many others, she probably gave Bollywood item numbers even before the term was coined.
She has surprised her fans and silenced her detractors every time. Those who laughed at her Hindi, soon found her saying goodbye to dubbing and delivering her dialogues written in her own hand.
Keen learner
No wonder, her better half, the ever-supportive Boney Kapoor and producer of many of her films, including the blockbuster Mr India gushes: "She is very dedicated and focussed." He says to master Hindi for a South Indian is as demanding as it would be for a North Indian to learn a South Indian language. He confesses that while he can't comprehend her mother tongue, Tamil, she understands Punjabi rather well!
It's not proficiency in languages that makes her a phenomenon, but her acting prowess that has embellished over 280 films in various languages and won her eight Filmfare nominations and four awards. The National Award may have eluded her, but her tremendous range and malleability can't be disputed.
Actor Jackie Shroff rates her versatility and effortless ability to flit from comedy to tragedy as a singular quality that sets her apart. Showman Subhash Ghai may have directed her in only one film (Karma), but swears by her talent that required no directorial intervention. He recalls: "While I have to often tell my other heroines to do it in a certain way, Sridevi instinctively not only knew what to do, but also took me by surprise each time."
Yet she calls herself a director's actor, for whom the director's wish is command. She followed the same dictum while working with her director Gauri Shinde of English Vinglish.
Politically correct
She says excitedly that it was her first experience of working with a woman director and she enjoyed a comfort zone with Gauri, who was clear about what she wanted. But she wouldn't get into any gender debate on how women directors are different or better. She is equally noncommittal about films today offering more meaty parts to heroines. Scripts were written with her in mind (she played double role in more than one film) even back then. On cinema of today, her one-line refrain is: "Good movies are being made."
In fact, she steadfastly refuses to be drawn into any discussion that could trigger a controversy. Be it her favourite co-star of yesteryear, heroines of today, or their crore-plus packages, her answers are politically correct and guarded.
Workouts, not surgery
She lets us into her eternal beauty secret. Gossip mills hinted at cosmetic surgery and there were snide comments about her spending lakhs on beauty treatments, but she swears by a positive attitude and lots of workout. She watches what she eats and among her favourite food is the Punjabi dish "rajmah".
Another passion is painting — moods, faces, figures … whatever catches her fancy. But her first love is acting. Not surprising, she comes alive when talking about Lamhe, Mr India, Chaalbaaz, Sadma, Judaai, Meendum Kokila and Moondram Pirai.
English Vinglish is special, too. Whether she delivered is for the audience to decide, but Sridevi could relate to a woman who doesn't know English and got under the skin of the character. She never takes reel life home. Rather, she laughs as she says: "The moment the director says cut, I snap out of it." Despite this distancing, she has unfailingly ignited the screen.
Doting mom & wife
Off-screen, Shroff remembers her as a quiet girl who would melt away in a corner and read a book. So, does anybody know the real Sridevi? Her doting family knows her as a practical, loving mother and a wife who spoils her husband with love and attention.
Actor-director Satish Kaushik, a family friend and the man who directed her in Roop Ki Rani Choron Ka Raja, says she opens up among friends and they shared a great camaraderie during Mr India. Sridevi, however, views herself as an introvert, who still gets nervous — like she did as a guest on KBC until Amitabh Bachchan (her co-star in Khuda Gawah) made her comfortable.
How does the diffident lady cope with stardom? "By not letting it go to my head," she says. Away from the limelight for 15 years, she neither yearned for it nor missed it. "Thanks to Boney, I was always a part of the film industry," she says. As she returns to the silver screen, she is in no tearing hurry to prove herself. In fact, she has nothing to prove. She can set her own pace, choose her own films.
Post-English Vinglish, she wouldn't say if she is flooded with offers. Ghai and Kaushik would only be too happy to work with her and her husband is planning to cast her in the sequel of Mr India. But Sridevi is not ambitious — neither for herself nor for her two daughters. "One can't plan these things," she says.
If she had a magic wand and could rewind life, she would live each moment the same way. If you are Sridevi, looking like a dream at 49, what more could you ask for?
Her fan following has grown to include youngsters who think she is a "hot aunty". A diehard aficionado in Andheri East, Mumbai, has booked an entire hall to watch her comeback film!