Gurdaspur roads in deplorable condition
Ravi Dhaliwal
Tribune News Service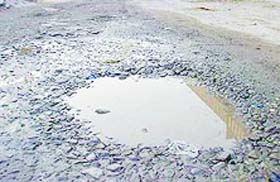 Gurdaspur, September 26
Murphy's Law states that when things get bad, they tend to get worse. This is essence that sums up the appalling condition of roads in all the seven Vidhan Sabha segments of this border district.
Leave alone the link roads, even the ones running through Gurdaspur town have become an eyesore following which accidents are happening with monotonous regularity. Instead of acting, the administration officials are hiding behind the 'lack-of-funds' excuse, which has become more of a pretext rather than a justification.
The stretch of the road running from Jahaz chowk to the Pathankot road railway crossing has earned the sobriquet of a 'killer zone'. The road, just in front of Punjab National Bank, is a sure pointer to the fact that officials are sleeping over the matter while accidents, a majority of them pertaining to schoolchildren, are occurring with impunity. Maintenance of the road is the responsibility of the CPWD and to add to the woes of the residents, the road cannot be repaired because the bank accounts of the CPWD have been sealed for some reason.
Deputy Commissioner Dr Abhinav Trikha said he was seized of the problem and would hold a meeting of officials concerned soon.
The Gurdaspur-Behrampur 10-km stretch of the road should have been in a good shape because of the grandiose plans of the state government to convert the Keshopur wetland into a tourist hub. A local resident, Manjit Dala said, "We pay road tax at the time of getting our vehicles registered. Going by the pathetic condition of the road I wonder where this money goes. It is better we stop paying our taxes if the state cannot provide us with basic amenities!"
In neighbouring township of Dinanagar, the problem is getting worse with every passing day. Residents said heavy vehicles engaged in ferrying mining material from Makkoran Pattan to Pathankot and Gurdaspur have damaged nearly all roads leading to and from the town.
Sartaj Singh, a Dinanagar resident, offered a unique way out to the road tangle. His view is echoed by many others. He said locals were willing to pay a nominal toll tax provided the roads were given to private parties on a Build Operate Transfer (BOT) policy. "Tax should be imposed on the road leading to Keshopur wetland since a lot of eco-tourists are expected to visit the area once the wetland is accorded 'eco-tourism' status," said Sartaj.
To compound matters, there are as many as five agencies handling the maintenance of roads and lack of cohesion among them means that residents are taking the road to nowhere. The departments engaged in sustaining the roads are PWD (B&R), Municipal Committees, National Highways Authority of India, Mandi Board and the CPWD. Till these agencies act in unison, residents will continue to have a rough drive.