Growers happy as unripe kinnows fetch them sweet returns
Raj Sadosh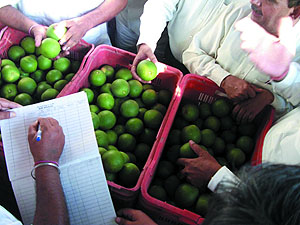 Auction of kinnows commenced at Abohar yard in the presence of growers and bulk purchasers on Friday. Photo by writer

Abohar, September 28
Kinnow growers cheered as marketing of the citrus range of fruits fetched Rs 17 at the inaugural auction in the new grain market here. The opening day recorded the arrival of 200 quintals as most of the growers preferred not to wait for the ripening as raw fruit is in good demand as a substitute to Mosambi.
Notably, Mosambi (sweet lime) juice is a favorite citrus drink in India and Pakistan. The skin of the fruit is light yellow at maturity, the rind is white and about 5 mm thick but its production has suffered a fall this year. Abohar growers had won prizes for the best fruit for three consecutive years.
"We have started plucking the fruit at an early stage to prevent dropping due to disease," said a farmer. Owing to favourable weather conditions, kinnow production this year is expected to be 7 lakh MT, which will be the highest ever in the state, experts said.
The arrival of the ripe fruit is normally expected in December and continues till March. The area under kinnow, which is mainly grown in Abohar, Fazilka, Muktsar and Hoshiarpur, stood this year at 39,000 hectares, up by 4,000 hectares last year.
The production of the fruit in the state has been in the range of 4 to 5 lakh MT over the last few years. In 2005-06, the area under the fruit stood at 22,887 hectares with a production of 4.3 lakh MTs, while in 2007-08, it jumped to 5.91 lakh MT with the area under cultivation at 31,788 hectares.
However, in 2008-09, though the acreage rose to 35,000 hectares, the output fell to 3.5 lakh MT due to poor weather. With the state anticipating a bumper output, the yield of kinnow will also improve to 20 tonnes per hectare from an average yield of 12 tonnes a hectare.
Under the National Horticulture Mission programme, a kinnow waxing and packing plant is being set up at the new grain market and no chemicals would be used in the process. The unit will be superior in quality than the 20 privately managed plants working in the region at present, official sources said.