youth found dead in Moga
Kin allege cops 'hushing up' matter
Kulwinder Sandhu
Tribune News Service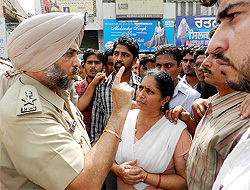 SSP Surjit Singh Grewal argues with family members of the deceased youth at the district hospital. Photos by writer

Moga, September 19
Family members and relatives of Parveen, a youth who was found dead under mysterious circumstances on Tuesday, held a protest on the premises of the district hospital here today after the police failed to register a criminal case of murder in the incident.
While the family members claim that the police was trying to hush up the matter and applying pressure on them to reach a compromise, the police officials, on the other hand, said investigations were in progress and action would be taken after receiving the viscera reports.
It may be mentioned that the deceased youth was allegedly involved in an attack on a local businessman, Vinod Goel, about two years back. He had died yesterday under mysterious circumstances on the premises of the commercial complex owned by Goel, who had survived his attack, which raises doubts over the possibility of a murder.
On Wednesday morning, when the postmortem of the body was being conducted by a panel of three doctors, the family members, relatives and local residents gathered on the premises of the hospital and protested against the police for not registering a case of murder.
SSP Surjit Singh Grewal, along with the other senior officials, reached the spot and tried to pacify the agitators who were adamant on registering a case of murder.
He spoke to the family members of Parveen and said the investigations were in progress and a criminal case would be registered only after receiving the postmortem and viscera reports.
However, the SSP added that the police had recorded the statement of Ajay Kumar, the brother of the deceased youth, who alleged that the local businessman from whose premises his brother was found murdered him, could have done away with him due to personal enmity.
Later, the protest was called off by the family members and relatives to cremate the dead.
Meanwhile, Dr Rajesh Attri, a member of the panel of doctors, told TNS that no visible marks of injury on the outer parts and internal organs of the body had been found in the postmortem examination, from which it could be believed that it was a case of murder.
"We have taken the samples of viscera from the stomach, heart and the brain and sent them to the government laboratory at Kharar and the Guru Gobind Singh Medical College and Hospital at Faridkot, for chemical examination," the doctor said.
On the other hand, Goel told a section of the media that Parveen had come to his office requesting to become an approver in the criminal case of attack on him but he had refused to entertain him.
Parveen was presently out of jail on bail.