Guide to best colleges

Results of Punjab Assembly Polls 2012


EARLIER FEATURES

Wrote to PM for sarpanches' security, got no reply: BJP
Surajkund, September 28
The Bharatiya Janata Party today expressed concern over the killings of elected sarpanches in Jammu and Kashmir and continuing threats to them, describing it as a clear sign of a rise in terrorism pointing at reports suggesting the active involvement of Laskhar-e-Toiba from across the border.
No ban on new LPG connections
New Delhi, September 28
The Petroleum Ministry today clarified that there is no ban on release of new LPG connections. However, it said that the oil companies are engaged in an exercise to ensure that subsidised cylinders are given to genuine customers and avoid de-duplication of the applicants.


NATIONAL HIGHER EDUCATION SURVEY

Young India has little interest in research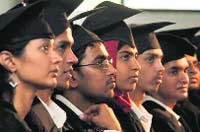 New Delhi, September 28
New findings have shown that more and more school students are now entering colleges and universities and enrolment is improving across gender. SC, ST enrolment is however stagnant and students' interest in research is dipping.
SC gives govt free hand to allocate natural resources
September 28, 2012
BJP hints at scrapping FDI in retail if voted to power
September 27, 2012
Cong backs PM's reform agenda; Sonia says no threat to govt
September 26, 2012
Govt moves closer to one rank, one pension; clears Rs 2,300-cr package
September 25, 2012
With Trinamool gone, SP blows hot and cold
September 24, 2012
Amid talk of reshuffle, PM calls on Pranab
September 23, 2012
Time for hard decisions, says Manmohan
September 22, 2012
Anti-UPA bandh unites BJP, Left & SP
September 21, 2012
Cong ready to sail without Mamata
September 20, 2012
Mamata withdraws from UPA, Manmohan govt in minority
September 19, 2012