Castaway lovers
Even as caste violence claims lives, there are young lovers who bridge the caste divide and defy the diktat of society. These intercaste lovers, especially in the hinterland and small towns, face threats to their life
Narendra Kaushik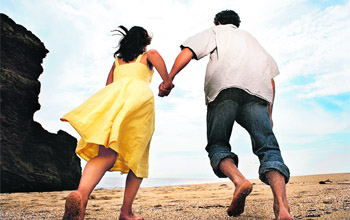 In the last 90 days, life for Ram Prakash Savita (30) and Richa Dwivedi (25) has come full circle. Residents of Shuklaganj, a town sandwiched between Kanpur and Unnao, Ram Prakash and Richa got married in a court in June this year. They lived in hiding in Unnao, Allahabad, Orai, Jhansi, Agra, Bhopal, Devas, Indore, Niwar (Jabalpur), Ujjain, Gwalior and New Delhi before Richa's parents conned them into separation on July 17. Since then, they have lived a separate life: Richa confined at her parent's place and Ram Prakash running around to retrieve his legal wife.
---
Arts
Where silence reigns
Paintings of Sufi saints often take one into the enchanting world which they endeavoured to reach
W

hen

I was asked recently to make a presentation as part of what was going to be a 'Sufi' event, I had my moments of doubt. Did I know enough? Was this anywhere near my area of competence, I wondered? The subject is so subtle, so arcane, esoteric, if one so likes, that to enter it was not going to be without hazard.
---
Sports
Shooting stars
Staying on top is a tough task for Indian shooters who brought glory to the country in the Olympics
Aman Sood
W

orld

number two in rank, London Olympics silver medallist Vijay Kumar, an almost unknown entity before his medal, and his counterpart Indian shooter Gagan Narang, who opened India's account at the London Olympics after he bagged a bronze medal in the 10m-air rifle, have written a new success story for India's shooting future.

'I want to change the colour of my medal in Rio'
Ace shooter and Olympic bronze medallist Gagan Narang speaks to Aman Sood on his medal, his future prospects and how he took to shooting:

Lone Ranger from Himachal
From a shy village lad to a silver medallist in the London Olympics, Vijay Kumar has travelled a long way
From the remote district of Hamirpur in Himachal Pradesh, to a silver medallist in the London Olympics, Vijay Kumar has travelled a long way.
---
Society
Saving the blood pheasants
When a species is endangered, out-of-the-box ideas help in conservation of wildlife
Deepak Rikhye
G

lenburn

is a tea garden adjacent to Sikkim. It was owned by Williamson Magor, one of the largest tea-producing companies in the world. In the year 2000, this estate was sold, purely for commercial reasons. The estate is a valley (hence the name Glen). The valley goes all the way down to a river, (hence the name Burn). Glenburn is blessed by a forest and a river. Both elements are wonderful to support an idyllic haven for wildlife.
---
travel
Adventure at Nagarhole
The enthralling forest in Karnataka, teeming with wildlife, is famous for its elephant herds and tigers
Sudhamahi Regunathan
D

on't

scream," said our driver who was a dignified man in his sixties. "It distracts me." We all put our hands to our mouths to stifle the scream that was threatening to come out. We were driving along a narrow path which had steep precipice on either sides, in the Nagarhole forest in Karnataka. To our left, in the valley beneath, we had all seen a huge grey mass...an elephant! Naturally, as soon as we spotted it, in our excitement, we let out a yell and our driver objected. Next he was not willing to stop. "Single elephants are dangerous. Only mad elephants roam around alone. It is better to get away from here as fast as possible," he advised. But we felt we could live on the edge. What is a visit to the forest if it is without adventure? So we each trooped out of the the car cautiously and noiselessly to get a better look. It took a second to find the grey mass was just a huge rock.

Venice is sinking
Though previous studies had found that Venice has stabilised, new measurements indicate that the historic city continues to slowly sink, and even to tilt slightly to the East.
---
Entertainment
Character actors take centrestage
Many talented character actors have, through sheer merit and versatility, got lead roles in out-of-the-box films
Shoma A. Chatterji
T

he

much-venerated villain-turned character actor Pran made his debut as the hero on the Hindi screen many years ago and acted as a hero in 22 films between 1942 and 1946 in Lahore. But when he came to Bombay, he became the top villain in Hindi mainstream cinema. He, then, veered towards character acting from 1967-1997 following which he voluntarily withdrew from the screen. Mukesh, the famous 'voice' of Raj Kapoor for many years, had come down to Mumbai to become a hero but became a playback singer instead.

Will Barfi be the Oscar dessert?
Barfi, which has been nominated as India's entry to the Oscars, was selected out of 20 films to represent India. It explores the possibility of a normal life for special people
M. L. Dhawan
Anurag Basu's Barfi, which has been nominated as India's entry to the Oscars in the foreign film category, has been facing much flak following charges of plagiarism in some of its scenes. According to Supran Sen, secretary-general of the Film Federation of India, Barfi was selected out of 20 films to represent India at the Oscars. The film, which is the love story of a speech and hearing impaired boy Murphy (played by Ranbir Kapoor), is set in Darjeeling during the 1970s. Murphy falls in love with a Bengali girl but heartbreak follows. He, then, develops a bond with his autistic childhood friend Jhilmil (Priyanka Chopra).
---

FRUIT FACTS