Hisar, Jind & Sirsa major beneficiaries
Urbanised Faridabad, Panchkula, Gurgaon to have least bus permits
Tribune News Service
Chandigarh, October 20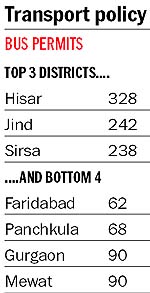 The rural districts of Hisar, Jind and Sirsa will be major beneficiaries of the new ambitious transport policy of the Haryana Government which was unveiled recently in a bid to improve connectivity to the remote areas in the state.
While Hisar district has been allotted 328 bus permits under the new stage carriage permit scheme, Jind will be offered 242 bus permits followed by Sirsa, which will get 238 bus permits. On the other hand, the urbanised Faridabad district will have the least bus permits (62) followed by 68 for Panchkula and Haryana's Millennium City Gurgaon (90).
The backward district of Mewat will also have only 90 permits, according to a notification issued by Ramendra Jakhu, additional chief secretary (transport).
The Haryana Cabinet, at a meeting presided over by Chief Minister Bhupinder Singh Hooda, on September 28 approved the new policy aimed at adding around 4,100 buses to the existing fleet in the private and public sectors. While 3,519 permits are being offered under the new scheme covering 1,017 routes to private bus operators, the Haryana Roadways will add nearly 600 buses to increase its fleet strength to 4,150 during the current financial year, official sources said.
The sources said the routes having originating and terminating points in the state and not connecting two district headquarters have been included in the scheme with a view to providing a viable transport in the remote areas. Currently, commuting from remote areas to the nearby towns is a Herculean task against the backdrop of the huge gap between demand and supply of transport services.
The following is the number of bus permits allotted to each district: Ambala (198), Bhiwani (220), Fatehabad (188), Jhajjar (160), Kaithal (224), Karnal (182), Kurukshetra (134), Mahendragarh (102), Palwal (112), Panipat (218), Rewari (160), Rohtak (173), Sonepat (194) and Yamunanagar (136).
A senior functionary of the state government claimed that every effort would be made to prevent the replication of the Punjab pattern, where influential politicians, including from the ruling SAD party, are ruling the roost in the lucrative transport system. No society, firm, company or family shall be granted more than one permit under the scheme, he added.