Main accused in Saklani murder case arrested
Sunny had slit Pushpa's throat with a kitchen knife
Tribune News Service
Dehradun, October 29
The police arrested the main accused in the Pushpa Saklani murder case, Sunny, a resident of Patel Nagar, yesterday. Pushpa was killed on October 16.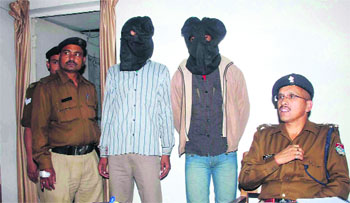 Two accused nabbed by the police in the Pushpa Saklani murder case in Dehradun on Monday. A Tribune photograph
Sunny and other accused Kalim had approached the Naintal High Court for anticipatory bail to avoid arrest, but were arrested by the police from the railway station after they were returning to Dehradun by train.
They narrated the same story that they went to advocate OP Saklani's house to commit a theft, but when his wife Pushpa Saklani recognised Basant, one of their accomplices, Sunny killed Pushpa with a kitchen knife.
Sunny and Kalim have revealed more about the crime to their interrogators. The police said Basant had been misleading it till now, but as Sunny and Kalim had disclosed the details, he had also admitted to these.
The police had arrested Basant and Vikas seven days ago and got a seven-day remand of them, which ended today. It was on their disclosures that the police had been raiding various places in Bareilley, Muzzafarnagar, Saharanpur, Haridwar and Meerut.
Basant, an electrician who had been going to Saklani's house for electrical works for the past 15 years, had masterminded the plot to commit the theft. He lured Anil, who had taught him how to handle electrical work, into joining him in the crime saying they could manage to steal things worth Rs 20 to Rs 25 lakh from Saklani's house.
Sunny, who was known to both Anil and Basant, was also made part of the plot. Initially, all three had planned to do it themselves but since the Saklani couple knew Basant and Sunny, they took along Kalim, Billa and Vikas. The trio was Sunny's friends.
Basant and Vikas had disclosed to the police earlier that as the maid, whom they had thrashed badly, had ran away from the house, they killed Pushpa fearing that they would be caught. But Sunny and Kalim disclosed that the maid remained in the house till the very end, even when Pushpa was murdered.
Another important disclosure was that it was Basant who ran away from house during the chaos, and this made others jittery. Out of fear, Sunny slit Pushpa's throat while the others hold her tightly. After committing the murder Kalim and Sunny boarded a train for Kathgodam while others hid themselves elsewhere. However, the accused could take away only Rs 600.
A remorseful Sunny later confided to Kalim in the train that he had never killed even a chicken in his life and now he had killed a woman. He confessed before the media that he would be remorseful for the crime throughout his life. Both Kalim and Sunny have no criminal history. Meanwhile, Billa and Anil are still at large.