M A I N N E W S
After 25 years, it's homecoming for Aung San Suu Kyi
Anita Katyal
Tribune News Service
New Delhi, November 14
When Nobel Peace laureate and Myanmar Opposition leader Aung San Suu Kyi delivered the Jawaharlal Nehru Memorial Lecture today at the Vigyan Bhavan, she was probably not aware that she was a mere stone's throw away from 24 Akbar Road, the sprawling bungalow where she grew up as a young girl, now housing the Congress party offices.
The premises was allotted to the pro-democracy leader's mother Daw Khin Kyi when she was appointed Myanmar's Ambassador to India in the early sixties. Prime Minister Jawaharlal Nehru had named the bungalow Burma House, a clear reflection of the warm ties between the two countries as also the close relationship between the two families.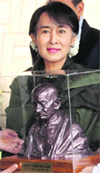 Aung San Suu Kyi with a bust of Mahatma Gandhi at Rajghat in New Delhi on Wednesday. Tribune photo: Mukesh Aggarwal
Congress president Sonia Gandhi made a special reference to these links in her welcome address at the Vigyan Bhawan programme. Pointing out that the ties between the two families go back two generations, Sonia Gandhi recalled that Nehru and Suu Kyi's eminent father General Aung San, known as Myanmar's independence hero, were personal friends.
The Congress president also reminded her that about her early days in India when her mother had set up home at 24 Akbar Road. Suu Kyi was fifteen then.
She studied at the Capital's Convent of Jesus and Mary School and went on to enrol at the Lady Shri Ram College, then housed in a small building in Daryaganj. Later, she spent two years at the Indian Institute of Advance Study, Shimla. Coming to India after a gap of 25 years, her visit was aptly described by Sonia Gandhi as "something of a homecoming."
Giving graphic details about Suu Kyi's stay in Delhi in his book "24 Akbar Road", writer-journalist Rasheed Kidwai said Myanmar's iconic leader occupied the room which is now Nehru-Gandhi scion Rahul Gandhi's office.
"Suu Kyi was a young girl with thick, long plaits of hair when she chose for her own the room currently occupied by Rahul Gandhi in his capacity as general secretary of the Congress."
She picked the room because it had a huge piano, the book said. Suu Kyi also played with Rajiv and Sanjay Gandhi on the sprawling lawns of 24 Akbar Road. Being her contemporaries, she often took riding lessons with the two brothers from the presidential bodyguards at the Rashtrapati Bhawan.
If Sonia Gandhi reminded the visiting dignitary about the relationship between their families, Suu Kyi reciprocated by recalling her family's special ties with Nehru. On the lighter side, she narrated an anecdote about how Nehru had arranged for a set of warm uniforms for her father when he stopped by in Delhi while on his way to London in 1947 for the first phase of negotiations for Burmese independence.
Her father, she said, was wearing the thin cotton uniform of the People's Volunteer Organisation. However, when Nehru took one look at his attire, he immediately ordered two sets of warm and smart PVO uniforms.
"To my infant mind, he was the kindly old man who had provided my father with two sets of uniform, the smartest-ever he possessed," the 67-year-old pro-democracy icon told the audience at Vigyan Bhawan.