Deeply inspiring
Agra-based artist Chitralekha Singh, in Chandigarh for a solo exhibition, says to showcase emotions on canvas o
She has come a full circle with her art; having touched the deepest emotions, drawn from the hidden meanings as well as metaphors and depicted the parodies, philosophies of life.
success mantra
A BAT-tle won

Yuvraj Singh, a successful cricketer who holds the distinction of hitting six sixes in an over, is even more admired now after his successful battle against cancer. While 2011 had been a year of ups and downs, 2012 has seen a calmer and happier Yuvraj; eager to spread happiness wherever he goes. Here is what this fighter considers characteristics that are significant for success.

FIGHT it out: YUVRAJ SINGH
With a smile
Actress Madhuri Dixit says many roles have inspired her and one film she goes back to all the time is Pakeezah
You have to be spilling with virtues to steer clear of controversies in B-town. A quick telephonic conversation with Madhuri Dixit, on the launch of an Olay product, and we don't know what she's more — polite or precise! Perhaps, that explains why there's no air to clear, nothing to clarify and only updates to share.
It's snack time!
Ludhiana-based cookery expert Manju Dewan's latest book, Daawat-e-Khaas Tea Time Munchies, lays out the recipes of as many as 85 sumptuous snacks...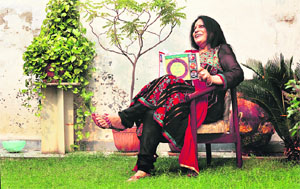 "Cooking is an art. In India, the food is always a priority. Who is cooking? For whom and how is it cooked? Cooking is round-the-clock occupation for a majority of women whether they enjoy it or not! It is commonly believed that the love of a woman is tangibly expressed in the form of variety, taste and presentation of what she is cooking. The food should offer a delight both to the eyes and the palate," reads the introduction of Ludhiana-based cookery expert Manju Dewan's latest book — Daawat-e-Khaas Tea Time Munchies.
Katrina Kaif: I can speak Hindi
Katrina Kaif feels blessed that she is working with all the Khans back-to-back in big films. She talks about Shah Rukh Khan, Hindi and more.
The road to happiness
Anushka Sharma loves travelling and her shooting schedules have not deterred her travel plans. In fact, they help her travel. She talks about travelling, security and more.
Ekta Kapoor, Bejoy Nambiar unite
Bejoy Nambiar has joined hands with Balaji to co-produce a riotous comedy, which has been interestingly titled Kuku Mathur Ki Jhand Ho Gayi. (Delhi-ites will be familiar with the word jhand!)
Kareena and Rani are poles apart
The film that is in the media glare at the moment, other than Jab Tak Hai Jaan, is the Aamir Khan-starrer Talaash. The film has been in news since a long time. It took time for the film to complete shooting as the script demanded it to be shot seamlessly. Also, with the perfectionist Aamir Khan acting in it, one can only expect the film to be without any glitches. There has been last minute re-shoots that postponed it to November 30 this year from a planned December release last year.
Chris, Liam to star in Steve McQueen biopic?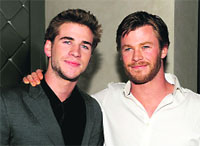 Hollywood's star brothers Chris and Liam Hemsworth are reportedly set to star together in legendary actor Steve McQueen biopic. The film is "Triumph AKA 40 Summers Ago". It is unclear what role the Australian brother duo will tackle in the biopic about the late "Sand Pebbles" actor. Brandon and Philip Murphy are set to pen the script, which revolves around McQueen's relationship with his stunt double Bud Elkins.
Comfortably settled
Huma Qureshi's first two films were appreciated and she is getting good offers too. Contented with her career, the actress doesn't see herself as an outsider in the film industry. "I don't feel I am an outsider. I was already shooting for other films even before the release of my first film 'Gangs of Wasseypur' (GOW). While shooting for GOW, I was simultaneously shooting for Vishal Bhardwaj's 'Ek Thi Daayan', and while shooting for 'Luv Shuv Tey Chicken Khurana', I was shooting for Nikhil Advani's 'D Day'," Huma, who is from Delhi, said.

I got arrested when I was 15: Bradley
Hollywood hunk Bradley Cooper was very rebellious in his teens which led to him getting arrested at the age of 15 for underage drinking. The Silver Linings Playbook star has been sober for eight years and credits his "intellectually curious" late father Charles for inspiring him to become an actor.
Par Excellence
Putting – Keep your wrists in a bowed position
The position of the wrists for putting is completely different from that of the wrists in the golf swing. While the wrists are in a cupped position for the golf swing they are in a bowed or arched position for putting. This arched position reduces the action of the wrists and limits their work in the putting stroke.
New in shelf
The fashion flock is currently residing in the stylish streets of London. Take an exclusive sneak peek at London's hottest style trends with the most attractive and modish clothing line - the Pepe Jeans London Autumn Winter'12 Menswear Collection. Get ready to hanker after the knits, jackets, pants and the youthful influence of modern fiesta spotted on London's streets.
celeb point
The last hurrah!
It was an evening to remember. When I had met Yash Chopra the last time at Mr Bachchan's birthday, he was so excited about Jab Tak Hai Jaan release. Who knew the film would release without the man behind it!
TRENDSETTER
Making it formal
Fashion is all about carrying an attire with ease
The words style, trends and fashion conjure up an image of somebody totally in sync with haute couture but the ones who actually stand out are the ones who carry off what they wear with a nonchalant attitude. Suave B Com student Rishabh Johar shares his views —
TROUBLE SHOOTER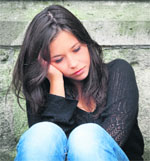 Twice bitten, thrice shy
I am a 31-year-old woman. My first marriage was a fraud and I got divorced. We did not have any physical relationship. I am working as a teacher in a college. I was talking to this man with my parents' consent for the past one year but he suddenly said he cannot marry me and backed off. My parents want me to put this behind me and move on but I have been very upset-- I find it difficult to get through the day and cry often though I am going to work. Please help.
High Spirits
Peppy Gua-Viva
Sip the spiciness of Chilled Guava. !!!
High Spirits
Professional rivalry
Not all is well between Kushal Tandon and Karan Tacker, who play brothers in Ek Hazaaron Mein Meri Behna Hai. Apparently Karan was irked when Kushal got better publicity and screen space in the show with the cancer track in the serial. The two work together but don't talk to each other at all. In fact, Karan even threatened to quit the show but after the creative head told him he would get a better deal he has decided to stay back.
The year ahead
If your birthday is November 15...
On this birthday, enjoy the light-hearted mood. Lunch on birthday with siblings will lift up your spirits. There can be a relationship that brings much joy into your life – a connection that puts a spring in your step. More freedom will be necessary in existing partnerships. Stale or lifeless routines and dynamics in your relationships will no longer be tolerated.
Astro Turf
ARIES: You start the day on a philosophical note. Do not jump to conclusions in haste. Not a good day for forming partnerships. Ventures may fail when associates withdraw support. Savings may get used up. Tarot message: Learn to accept responsibility for yourself and others.

Lost & found
Shruti Haasan misplaced her boarding pass at Mumbai Airport. The officials were kind enough to issue a new one for her just before she boarded the plane. She forgot it because she was busy shooting before leaving for the airport in a rush.
Support system
The Dutt's and Salman Khan's parivaar saw Son of Sardaar at a special screening. We wonder what they thought of it! They are on Ajay Devgn's side in the JTHJ-SOS war but we know Khan's family is also going to watch Jab Tak Hai Jaan for Katrina Kaif. They adore her.

Short take on Kashmir
Imtiaz Ali has made a short film called Window Seat In Kashmir and it is about a boatman and his life on the Dal Lake. We don't know when it is out but it is creating a buzz because it is Ali's first film after Rockstar. The trailer can be seen online only. Imtiaz Ali's ancestors are from Kashmir.
New address
Rakhi Sawant has got a new home in suburban Mumbai and she celebrated Diwali with her mother and family and friends! Congratulations to her!

Vishakha is back
Vishakha Singh, who was last seen and noticed in Khelein Hum Jee Jaan Sey, has bagged Vikram Bhatt's next film opposite Arjun Mathur. He is producing it and he approached her via email. She is currently shooting a film down South.
Chopra vs Chopra
Anushka Sharma is the only actress to have worked with both Aditya Chopra and Yash Chopra. She says that Yash Chopra is way cooler than Aditya Chopra. She felt honoured to do a Yash Chopra film and got along just fine with Katrina Kaif.
How's that?
Here is some gossip! Every top actress wears clothes that are lent to her by designers and brands at events and red carpets and such! Very few of them actually buy the clothes and sometimes the clothes are not even returned. They just keep them.