A blast victim under treatment at the General Hospital, Sector 6, Panchkula. (L) Windowpanes of factories located far away from the blast site were also broken. Tribune photos: Nitin Mittal


Factory was sans fire extinguisher
Panchkula, November 15
The Panchkula Administration seems to be in slumber and does not know that such a big industrial unit was operating without the requisite licences and safety norms. To make matters worse, not even a single fire extinguisher was installed on the factory premises.
PGI entrance exam racket
More fake candidates were to appear, but got 'scared'
Chandigarh, November 15
Even as the CBI arrested seven girls who were decoy candidates meant to leak the paper during the PGI MD/MS entrance examination, there were other girl members of the gang who had successfully applied for the entrance examination but did not appear for the written test. While CBI sleuths rounded up three girls who stayed back at a hotel as they got "scared", there were as many as 16 different application forms submitted by these "helper girls" for appearing in the PGI examination.



The accused in the PGI MD entrance examination racket being produced in the District Courts in Sector 17, Chandigarh, on Thursday. Tribune photo: Parvesh Chauhan
Exam to be held in 2nd week of Dec
Chandigarh, November 15
Calling it a "precautionary measure", the PGI, Chandigarh, today declared that the MD/MS entrance examination will be rescheduled in the second week of December as the examination held on November 10 has been cancelled following a scam unearthed by the CBI during the examination.
Cancellation of exam leaves candidates upset
Chandigarh, November 15
The PGI's decision to cancel the MD/MS entrance examination held on November 10 in view of the cheating racket busted during the examination has left candidates disappointed.
PGI to introduce jammers, metal detectors
Chandigarh, November 15
Waking up from deep slumber, the PGI, Chandigarh, has decided to introduce metal detectors and jammers in the MD/MS entrance examination. The examination will be rescheduled in the second week of December as the examination held on November 10 has been cancelled following a scam.

Term nearing end, Mayor on inauguration spree
Chandigarh, November 15
City Mayor Raj Bala Malik is a woman in a hurry at the fag end of her term. In what is being viewed as an attempt to hog credit, she is on an inauguration and foundation stone-laying spree with at least eight such functions planned before her term comes to an end in December.
Raj Bala Malik, Mayor


Mohali MC set to extend limits
Mohali, November 15
With the addition of 15 villages, 20 sectors, having a population of about one lakh and three times the existing area of the town, the Mohali Municipal Corporation (MC) is ready with the proposal of extending its limits.
P'kula DC fails to visit blast site
Panchkula, November 15
"How many innocent people will have to sacrifice their lives to wake up the Panchkula Deputy Commissioner Ashima Brar who doesn't bother to be at the scene of any such major mishap?" the local people feel who have been shaken by the factory blast.
Ancestral house of SOPU leader raided
Mohali, November 15
In the bashing up of former student of DAV College, Sector 10, by SOPU leader Amandeep Singh Multani, the local police is yet to make any arrest.
Lobbying on for Chandigarh Mayor's post
Chandigarh, November 15
With the election to the coveted post of Mayor is one and a half month away, prospective candidates from the Congress and the BJP have started lobbying.
Junk dealers encroach UPON plots worth crores
Chandigarh, November 15
A survey by the UT Estate Office to ascertain the ground situation in Phases I and II at the Industrial Area here, has revealed that a number of un allotted plots, valued worth crores of rupees, had been encroached upon by junk dealers right under the nose of the authorities. The junk dealers, sitting along the railway line, opposite the petrol pump and in open near the newly converted hotels in Phase II and certain points in Phase I are doing their business on encroached land. Of the total 1,781 plots, encroachments of different nature were found on 84 vacant plots.



Industrial plots encroached upon by junk dealers in the Industrial Area, Phase II, in Chandigarh. tribune photos: parvesh chauhan
Industrial Area lacks basic infrastructure
Chandigarh, November 15
Profile of Industrial Area, Chandigarh is changing as more than 10 hotels, including two five stars, more than 40 malls and shopping complexes are coming up in Industrial Area. But despite these projects, the UT Administration and the municipal corporation have miserably failed to upgrade the basic infrastructure here.



Potholed roads in the Industrial Area, Phase I, in Chandigarh. tribune photos: manoj mahajan
ward DELIMITATION
Councillors seek details from authorities
Panchkula, November 15
The first meeting of ward de-limitation was convened today at the DC office, Sector 1, Panchkula, and the councillors have asked for various details from the authorities so that they may come up with objections and suggestions at the next meeting.
24 Indian doctors to fly to Nigeria
Chandigarh, November 15
A team of 24 Indian doctors and volunteers would fly from Mumbai for a 10-day medical mission to conduct polio corrective surgeries in Abuja, Nigeria. A total of 400 surgeries will be performed during the mission and the team will leave on December 2.
Experts discuss democratic reforms
Chandigarh, November 15
A panel discussion on "Democratic Reforms: Canada and India" was held at the ICSSR Complex, Panjab University, today. Minister of State (Democratic Reform) Tim Uppal, Scot Slessor, Canadian Consul General at Chandigarh, Professor Ashutosh Kumar and Professor Surinder K Shukla were among the panelists.
Punjabi litterateurs to be awarded tomorrow
Chandigarh, November 15
Eminent litterateurs Dr Mohinder Kaur Gill and Prem Parkash Khannvi will be given the Punjab Sahit Rattan Award for 2010 and 2011, respectively, at a ceremony here on Saturday. The award carries a cash prize of Rs 5 lakh.
'Baldey Tibbey' staged at Tagore Theatre
Chandigarh, November 15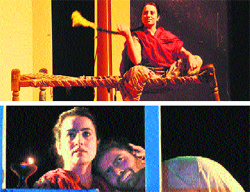 Punjabi play "Baldey Tibbey" was staged at the Tagore Theatre during the annual theatre festival of the Chandigarh Sangeet Natak Academy today. Directed by Umesh Kant, the play is an adaptation of "Desire Under the Elms", written by one of the most enduring American playwright Eugene O Neill.





Artistes stage a play at the Tagore Theatre in Chandigarh on Thursday. Tribune Photos: Vicky Gharu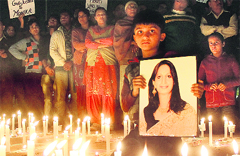 Candlelight march held
Chandigarh, November 15
Close friends and relatives of deceased Monica Goyal, 36-year-old computer teacher, held a candle light march seeking justice for her.




Monika's son Krish and members of her family take out a candlelight march in Chandigarh on Thursday. a tribune photograph
Technicians suspend work at GMSH-16
Chandigarh, November 15
More than 50 lab technicians at the Government Multi-Speciality Hospital (GMSH), Sector 16, held a gate meeting, suspending work for one hour at the hospital today.
University students end protest
Chandigarh, November 15
The ten-day-long protest over the hike in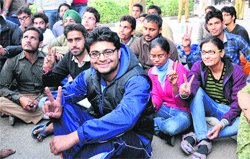 food prices at Panjab University finally came to an end after the PU authorities slashed the rates of a diet from Rs 30 to Rs 27.50 till January 15. The decision came after the intervention of Union Railway Minister Pawan Kumar Bansal, who is the local MP. The minister has assured to take up the issue of providing one cylinder against each hostel resident every year on subsidised rates. If the proposal is accepted, the university hostels will be getting around 67, 00 cylinders on subsidised rates every year.
PU students in a cheerful mood after the PU authorities decided to slash the mess charges. Tribune Photo: Pradeep Tewari
UT Education Dept to finalise reimbursement amount soon
Chandigarh, November 15
The long pending confusion about the extent of reimbursement to the unaided private schools in Chandigarh seems to have some clarity now. In its latest decision, the UT Education Department has clarified that the reimbursement to the local private unaided schools under the RTE Act would be more than the obligation, which they have to adhere under the state economically weaker sections (EWS) quota.
One-time cash subsidy for school uniform from next academic session
Chandigarh, November 15
The UT Education Department has begun the process of providing one-time cash subsidy to government school students for buying schools uniforms. It will be provided from next academic year and will be deposited in the joint bank account of a student and his mother. As per the information, the department has asked all government schools to open the joint bank accounts of their students in a month. Several schools have nearly finished with their bank account work. Dr Vinod Sharma, headmaster of Government Model High School,Sector 34, said the bank accounts of 90 per cent of their students had been opened and the rest would be opened in a week.