Smokeless signals
The number of users of smokeless tobacco products is more than double the number of smokers in India. These products contain as many as 3,095 chemicals, of which, at least, 28 are carcinogenic
Dr Monika Arora
India's smokeless tobacco industry is up in arms against various state governments for the 'step treatment' by way of a ban. But there are strong scientific, legal and policy reasons to back this important public health intervention that has been enforced by 16 state governments. However, other states in the rest of India and other countries also need to realise that the use of smokeless tobacco is much more than a bucolic problem.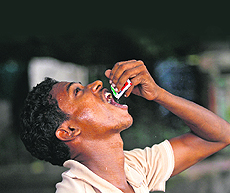 India has the largest number of oral cancer cases in the world, due to the widespread habit of chewing tobacco
With a number of these tough legislations hitting the gutka and paan masala industry, the country is making groundbreaking progress in strengthening tobacco control efforts that are crucial to protect millions, who are affected by tobacco use, especially women and children.
Epidemic proportions
India is the second largest consumer of tobacco. Most survey data points to the fact that gutka and smokeless tobacco are driving the tobacco-consumption epidemic in the country. Smokeless tobacco users in India consume more than 22 types of smokeless tobacco products. These include gutka, khaini, zarda, mawa, kharra (as chewed forms of tobacco), dry snuff and liquid snuff and mishri, gul, gudhakhu creamy snuff and bajjar as applied forms. Since smokeless tobacco use is not considered a social taboo, its use is specially high among vulnerable women and children. Between 2005-06 and 2009-2010, the percentage of women smokeless tobacco users has risen twofold, from 8.4 per cent to 18 per cent. Children as young as 14 years have been diagnosed with pre-cancerous lesions resulting from smokeless tobacco use.
The Global Youth Tobacco Survey, 2009, revealed that 6 per cent of school-going girls (13-15 years) use smokeless tobacco compared to 3.7 per cent who smoke. According to the Global Adult Tobacco Survey Report for India, released in 2010, the users of smokeless tobacco, at nearly 164 million, are more than double the number of smokers, who account for about 42 million. The initiation rate for smokeless tobacco, before the age of 15 years, is higher among the poor and those with no formal education, which adds to their existing economic burden. An increase in the prevalence of smokeless tobacco use in India has resulted in increased burden of disease and mortality in the country.
India also has the largest number of oral cancer cases in the world, due to the widespread habit of chewing tobacco. The risk of oral cancer is 2.6 times greater for people who consume smokeless tobacco, as compared to non-users. Various studies have found severe adverse health effects, which include pre-cancerous lesions, mouth cancer, cancer of larynx, pharynx, oesophagus, lungs, stomach and pancreas, dental caries, gingival recession, tooth attrition, ischemic heart disease, hypertension, stroke, reproductive health problems, low birth-weight babies and overall mortality.
Nicotine in smokeless tobacco products is absorbed through the mouth tissues directly into the blood and reaches the brain. Even after being removed from the mouth, nicotine continues to be absorbed in the bloodstream and stays in the blood longer for users of smokeless tobacco than for smokers. Smokeless tobacco is highly addictive and has poor quit rates (5 per cent). It has been documented that between the initiation of carcinogenic habits such as smokeless tobacco use and invasive oral cancers, pre-malignant lesions such as leukoplakia, erythroplakia and oral sub-mucosal fibrosis (OSMF) occur. It has been shown that malignancies from these premalignant lesions can occur within a period of few months to few years. In a clinic-pathological study conducted on current chewers, paan masala or gutka chewers, the OSMF appeared within about three years. However, temporal patterns between smoking and lung cancer have been observed in 10-60 years of time. A research study has compared plasma nicotine levels after use of moist snuff, chewing tobacco, nicotine chewing gums and smoking. This study reported that due to prolonged exposure to oral tobacco products, the overall amount of nicotine absorbed and sustained was twice high as that after cigarette smoking. This further underscores the need to prohibit the use of smokeless tobacco. An adolescent initiating tobacco chewing at the age of 12 years will start showing symptoms of the OSMF by 15 years of age. Oncologists in India are already seeing this new trend of the OSMF appearing at very young age. There have been cases of young adults succumbing to advanced stages of oral cancers.
Carcinogenic agents
The chewing of both the tobacco and the areca nut (supari) are hazardous due to known carcinogens (cancer causing) in them, most notable ones being nitrosamines. Smokeless tobacco contains as any as 3,095 chemicals, of which at least 28 are carcinogenic. Areca nut, an ingredient in gutka and paan masala, also has addictive and health-damaging properties.
Many research studies have further shown that risk of oesophageal cancer is 2.2 to 7.1 times higher among smokeless tobacco users compared to non-users. Death due to ischemic heart disease is 1.25 times higher among chewers. Some studies also have quantified adverse impact of smokeless tobacco use on reproductive outcomes. Pre-term birth and low birth-weight risk increased by 2-3 times among chewers, while there was threefold increase in still-births among users. It has adverse effects on blood-lipid profile and sperm count, too, according to some studies.
Using chewed forms of tobacco also causes the public nuisance of spitting, which not only defaces public infrastructure; but also make the surroundings unhygienic. Additionally, environmental hazards due to plastic packaging of these products have been established. The Supreme Court of India prohibited plastic packaging of gutka, paan masala and other similar chewing products.
Smokeless tobacco use is also a burden on the government and poses important development challenges. It is estimated that direct medical costs for treating smokeless tobacco-related diseases is Rs 13.09 billion and the indirect cost is Rs 4.8 billion (approx.). Tobacco consumption impoverishes roughly 15 million people in India. Expenditure on smokeless tobacco is responsible for 42 per cent increase in poverty. Tobacco in any form is the number one preventable cause of death and disease globally. Various states governments that are serious about improving the health of their population have to prioritise and tackle the most serious health threat first. Currently, smokeless tobacco is that identified threat in India.
Easy access
It is high time all stakeholders realised that smokeless tobacco poses a unique challenge. It is available in a myriad varieties from chewable forms to applied products. These can be accessed easily, and are excessively affordable, especially for adolescents. Public health specialists identify these as 'gateway' products, which attract new and young users to use tobacco in general, which may later include both smoking and smokeless forms.
Another concern related to smokeless tobacco use is the low awareness of its ill-effects. In some areas, smokeless tobacco is thought to have medicinal properties for curing palliating common discomforts such as toothache, stomach-ache, and headache, thus propelling its use. Therefore, the urgent need to prohibit the use of smokeless tobacco products in India is critical.
The writer is Director, Health Promotion and Tobacco Control Division, Public Health Foundation of India, New Delhi