fifty fifty
Women's vote key to political power
Indian political parties had better watch out for the day women in India cast their vote as a single cohesive group, bringing in women candidates or those sympathetic towards them.
Kishwar Desai

This week I had been invited by the Cambridge University India Society (started initally by Jawaharlal Nehru when he was studying at Trinity College) to speak about my novels and why India can no longer be considered a safe country for women. However, the chips were stacked in favour of my tragic argument given the fact that women have just been banned from praying at the famed Haji Ali shrine in Mumbai and every day brings new reported cases of acid attacks, rapes and honour killings.
The Cambridge evening turned out to be an interesting one, even though we had to change the venue as the ceiling collapsed in the original room (without my having said a single word!) A lot of fiery questions were thrown at me by young students, many of whom confessed that they had been so busy studying that they had no time to ponder about these issues.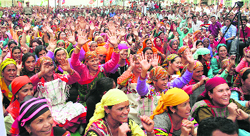 dismal: A lot has to be done for the uplift of Indian women.
It was an eclectic mix of students but unlike many other functions where gender is discussed, this was a happily gender-balanced audience with an almost equal number of men and women. The discussion was exciting because at the end of it everyone, including the young men present, tried to come up with solutions on how to improve the sex ratio in India. The salutary interventions from this group of thoughtful young men and women made one hope that the future of India rested in safer hands.
One of the male students even suggested that gender issues, especially foeticide and infanticide, should be taught in school, and wondered why that was rarely done. And he is right! Until we involve the youth of our country in sorting out these issues, how will the present environment ever improve? Yet the others in the audience were swift to point out that the manner in which some of them had been educated in India, left them with very little time to imbibe examples from 'real' life, or ask uncomfortable questions.
Obviously few of them, really, even had the time to examine whether their country was fair to women. Fortunately, none of them tried to dismiss the problem, and I came away thinking that if all young Indian men thought in this manner, the women would soon be able to feel secure.
But this is very unlike the attitude that an aging politician from India, Mulayam Singh Yadav, displayed recently. A former Chief Minister of Uttar Pradesh, Yadav has rarely tried to hide his angst over the Women's Reservation Bill and he has always come up with unpalatable, misogynistic remarks. Despite the fact that his son and UP Chief Minister, Akhilesh Yadav, selected his own wife Dimple to run almost unopposed as a Member of Parliament, Yadav senior has now complained that the present Women's Reservation Bill would support the entry only of English-speaking urban women into Parliament. The implication appears to be that it is alright for his family to put them in, but not for the others.
And this time he has gone a step further saying that rural women will not stand a chance of being elected if the Women's Reservation Bill is introduced in its present form, as they are simply not 'attractive' enough. Of course, he covers up his objections by stating that the Bill must have provisions for Dalit and Backward Castes as well as Muslim women.
The fact is that Yadav, unlike the young men and women I met in Cambridge who are keen that their country bridge the gender divide and help women to improve their status, would prefer to somehow keep his casteist and religious clout in doling out seats, even to women.
The question to be asked is why Yadav (who would lose miserably indeed if votes were cast on the basis of 'attractiveness') does not start by introducing reservation for women within his own party, even on his own terms. What is truly shocking is that none of the major political parties have even begun to appreciate the vote bank that lies within easy reach, mending their ways.
All they need to do is analyse how women have voted in the recent US elections. The fact that the Republicans were seen to be waging a war on women — on their reproductive rights as well as on healthcare — meant that President Obama actually polled more of the female votes than his challenger, Mitt Romney.
One of the major lessons from the elections, and the cause of the Democratic victory in the US, is reflected in the jump in the number of women representatives. There had been a steady increase in their numbers in previous elections as well. This time, there will be 20 women among the 100-seat Senate. Apart from that, there is a gay Senator among them, Tammy Baldwin, and there are at least five women Senators entering Parliament for the first time, replacing men. Overall, among the Democrats, there has been a positive push for women — and the approximate 200 Democrats in the 113th Congress will have a record 61 women.
On the other hand, the Republicans who were perceived to have been far more regressive in their attitudes have ultimately paid the price for it.
This is why Indian political parties had better watch out for the day women in India cast their vote as a single cohesive group, bringing in women candidates or candidates sympathetic towards women. Perhaps, if the political parties continue to ignore them, they might be forced to jump onto Arvind Kejriwal's bandwagon and start their own Women Against Misogyny Morcha! (WAMM) — Not a bad acronym, any takers?