4 accused of gangrape held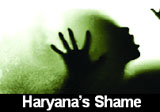 Hisar, November 10
The police today arrested four youths accused of gangraping a minor Dalit girl hailing from Dhaya village of this district. Superintendent of Police B Satheesh said the victim's family had initially complained that these boys had only tried to molest the girl. Later, the girl told the police that she was gangraped by four youths, Kulbir, Deepak, Pawan and Vijay.

Arora INLD state chief again
Chandigarh November 10
National president of the Indian National Lok Dal (INLD) and former Chief Minister Om Prakash Chautala has re-nominated Ashok Arora as the president of the state unit of the party.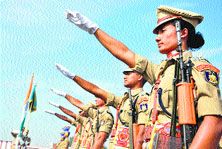 Trainee officers take oath during 43rd (A) batch passing out parade at the CRPF Academy, Kadarpur, Gurgaon. Tribune photo

Girl raped by neighbour
Faridabad, November 10
A 20-year-old girl was allegedly raped by her neighbour at Sikri village in the Ballabhgarh area of the district. The police said the incident took place yesterday, when the accused Parvinder sneaked into the victim's house in the absence of her father and raped her after giving some sedative-laced food to the victim.
Rai to get shooting range
Sonepat, November 10
Chief Minister Bhupinder Singh Hooda today announced to open a rifle shooting range at the Motilal Nehru School of Sports (MNSS) in Rai. The government is also contemplating to upgrade the school to a sports college, he added.
Police clueless about culprits
Faridabad, November 10
The police is still clueless about culprits who yesterday looted Rs 26 lakh from the house of a local businessman after stabbing his wife and critically injuring her. The victim is stated to be out of danger. She was stabbed twice by the culprits. She was alone in the house at the time of the incident. Her son, Rohit, spotted her lying in a pool of blood.
Rape accused nabbed
Rewari, November 10
The police has arrested Raj Kumar Yadav of Dakhora village, who had been on the run in a rape case for the past three months, from Neemrana town of Alwar district in Rajasthan. The police has also seized a motorcycle from the accused, which he had used to kidnap the girl from Dakhora village, near Kosli, on August 8. Raj Kumar was produced in a local court today, which remanded him in 14-day judicial custody. — OC
Hoardings: INLD accuses MCF of bias
Faridabad, November 10
The face-off between local INLD leaders and the Municipal Corporation Faridabad (MCF) over the removal of the leaders' hoardings in the Ballabgarh zone today assumed another dimension with a state leader of the party and former MLA, Ram Kumar Saini, asking the MCF to desist from being partisan. He said the authorities were wrong in removing hoardings of his party leaders. TNS
NSS volunteers for green Divali
Kurukshetra, November 10
NSS volunteers of the University Teaching Department, Kurukshetra University, resolved to celebrate green Divali this year. On this occasion, Prof CR Darolia, Proctor of the university, called upon students to restrain from the use of firecrackers this Divali because of heavy pollution and a thick layer of smog. He said crackers pump in heavy pollution into the environment, which causes several problems like asthma, bronchitis, burning of eyes, etc. The aged people and the animals also face problems. TNS