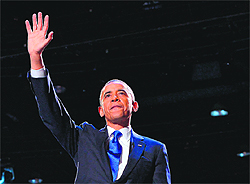 Barack Obama's first trip overseas since being re-elected president of the United States of America will be to Asia later this month. The significance of his travels is enormous. Late into its first term, the Obama Administration undertook a diplomatic and military pivot toward the Asia Pacific region. The President's itinerary — which includes stops in Burma, Thailand and Cambodia — is further evidence of the importance he intends to place on Asia in his second term.
India can hope to benefit from this attention.
As part of its rebalancing toward the Asia-Pacific region, the Obama Administration has spelled out military, economic and trade, human rights and diplomatic initiatives. Much of the commentary in Washington has described this policy as a "pivot" and framed it in the context of a military containment of China.
As it goes about implementing this policy, the Obama Administration will look to its allies in the region, particularly countries like India that share the US democratic principles, to step up.
India engagement
Even as the US is getting more engaged in the Asia Pacific region, it is withdrawing — at least militarily — further west, in Afghanistan. Here, too, the US is looking to India to play a bigger role.
Obama and his NATO allies are committed to their self-imposed deadline to withdraw all combat troops from Afghanistan by the end of 2014. Ending America's decade-long war in Afghanistan has been a priority for the US President.
The Obama Administration has pushed India, with limited success, to do more heavy lifting in Afghanistan, specifically on building democratic institutions. New Delhi's hesitation is rooted in its reluctance to be left holding the bag when the US leaves.
The Obama Administration's position on India's role in Afghanistan has undergone a dramatic evolution since the president first came to office in January of 2009. In those early days, Obama appeared to sympathise with Pakistan's argument that India was part of the problem in Afghanistan. Washington was cool to the idea of an Indian presence in Afghanistan for fear that it would upset Pakistan, its perceived ally in the war on terror. Pakistan's own duplicity was exposed following a US commando raid on Osama bin Laden's Abbottabad hideout in May of 2011. The Al Qaeda leader was killed in that raid, and the US-Pakistan relationship plunged to its nadir.
Tackling terror
US-India counterterrorism cooperation has deepened significantly on Obama's watch. This will remain a "strong plank of the overall relationship, even though the two governments may not see eye-to-eye on how to stabilise Afghanistan when US and NATO forces depart the region by the end of 2014," said Lisa Curtis, a senior research fellow at the conservative Heritage Foundation in Washington.
Afghanistan will prove both a challenge as well as an opportunity for the US-India relationship. The US has earlier given in to Pakistani claims about their inability to curb terror and need for advanced weaponry.
Obama and India had got off on the wrong foot.
As a presidential candidate, Obama had declared his interest in mediating between India and Pakistan on Kashmir. In an interview with Time magazine in October 2008, two weeks before the election, he said that "working with Pakistan and India to try to resolve (the) Kashmir crisis in a serious way" would be priority for his administration if he were to be elected. He acknowledged that the issue was "obviously a tar pit diplomatically," but maintained that "there is a moment when potentially we could get (the Indians' and the Pakistanis') attention."
"It won't be easy," he said, "but it's important."
The comments raised hackles in New Delhi, which considers the situation in Jammu and Kashmir an internal matter and is averse to third-party mediation. New Delhi balked when the Obama Administration sought to lump it with Pakistan and Afghanistan under special representative Richard Holbrooke's watch.
Another wrinkle in the relationship was created by the Obama Administration's initial flirtation with the idea of a US-China partnership. Washington quickly dropped that idea.
Making amends
Obama was quick to smooth over these wrinkles and in a gesture loaded in equal parts with symbolism and significance, hosted Prime Minister Manmohan Singh at his Administration's first state dinner at the White House in November of 2009. That the event was overshadowed by a gatecrasher is hardly the American President's fault! Obama and Dr Singh have developed a warm personal relationship, which is evinced by the fact that the Prime Minister was one of the first people the President spoke with after his re-election.
The US and India will find many other issues on which to work together, including Iran, on which the West has imposed crippling sanctions in its effort to prevent the Central Asian nation from building a nuclear bomb. Iranian officials insist that their nuclear programme is peaceful.
At the United Nations, the US will look for greater cooperation from India, which has avoided taking firm stands on awkward questions such as Syria raised in the UN. Such behaviour weakens India's case for a permanent seat at the UN Security Council.
Obama sees India as a "defining partnership of the 21st century". Growing US-India ties are not a challenge in Washington. It is one of the few issues that enjoy bipartisan support in a deeply divided city. Obama's Democratic Party and the Republican Party both favour strong ties with India.
A lot of the onus for building the relationship lies on New Delhi.
Obama's second term will provide many opportunities for India. He could be expected to push India on issues such as foreign direct investment, nuclear liability and a bilateral investment treaty.
New faces
And while the relationship is likely to benefit from the degree of familiarity between interlocutors in Washington and New Delhi, a second Obama Administration will likely see more than a few changes in the President's Cabinet. Most notable will be the one at Foggy Bottom, where Secretary of State Hillary Rodham Clinton is expected to leave her post in January. Clinton has said she wants to return to private life, but she is widely believed to have set her sights on the Democratic Party's presidential nomination in 2016. A break from the hectic pace required of America's top diplomat will give her time to focus on ambitions closer to home.
Susan Rice, the US Ambassador to the United Nations, Senator John Kerry of Massachusetts, who is chairman of the powerful Senate Foreign Relations Committee, and Obama's low-profile National Security Adviser Tom Donilon are top among the names mentioned as Clinton's likely successor.
Change will also come at the Treasury Department, where Secretary Timothy Geithner has said he intends to step down.
And at the Pentagon, Defence Secretary Leon Panetta may also decide to call it quits, creating a vacancy that is widely expected to be filled by either former Pentagon policy chief Michele Flournoy or Deputy Defence Secretary Ashton Carter.
Foreign policy will consume a lot of Obama's time in his second term, but it is the task of mending the US economy that will get his immediate attention. Even before he is sworn into office for the second time in January, Obama will have to deal with the so-called fiscal cliff — a combination of tax increases and mandated across-the-board spending cuts set to kick in at the end of the year.
Compared to four years ago, when he was swept to power on a platform of hope and change, Obama now faces an extremely polarised political landscape. He will have a particularly hard time dealing with the US Congress, where Democrats control the Senate and Republicans the House of Representatives. The US Congress has an approval rating hovering around 11 per cent and has been mocked as the least productive in six decades.
Spring and winter
Syria, Iran and the countries transformed by the Arab Spring will be among Obama's most prominent foreign policy challenges. The administration is under growing pressure to play a more direct role in trying to precipitate an end to the Syrian civil war that has raged since March last year and claimed more than 30,000 lives. The options being suggested include arming the rebels, which the Administration has been reluctant to do.
The challenge posed by Iran was brought sharply into focus on Thursday when the Administration revealed that Iranian fighter jets had shot at an unmanned US drone during a routine surveillance mission over the Persian Gulf on November 1.
In his victory speech to ecstatic supporters in a chilly Chicago early on November 7, Obama promised that the "best is yet to come". Challenges, both at home and abroad, may severely limit the President's ability to deliver on that promise.