G R O U N D Z E R O
The Valley simmers, this time over LPG
With over 100 million consumers of LPG facing confusion over registration for connections not just in Kashmir but all over the country, itís time the Central govt came up with innovative solutions.
Raj Chengappa


Winter has set in in the Valley and temperatures in Srinagar touch freezing point early in the morning. A flock of geese doze in the placid Dal Lake as idle shikaras bob up and down on its banks. Leaves of the chinar trees have turned a rusty brown and the poplars a brilliant gold.
A taxi driver informs me how the late Mrs Indira Gandhi so loved the sight of the changing colours of the brief fall experienced in the Valley, which she visited shortly before she was assassinated in 1984.
Yet beneath the surface calm the Valley is simmering with frustration. This time though not because of militancy or anger against excesses by security forces. They are upset with the Central and state governments for the most mundane of reasons: a shortage of cooking gas.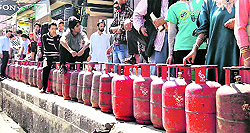 under pressure

: Srinagar residents await their turn for LPG refills. Tribune photo: Yawar Kabli
Early morning, despite the freezing temperatures, long queues have formed in front of the 40-odd dealers of LPG outlets in the Valley. Many have brought their empty cylinders, hoping to exchange them with filled ones. Others wait patiently to submit forms along with copies of documents that vouch for their identity and residential addresses. Fights frequently break out and there is visible anger over the plight they face.
The Valley is heavily dependent on LPG, particularly in winter. Apart from cooking, Kashmiris use it for heating up their houses when temperatures drop below zero. Also many of them have converted their vehicles, particularly auto-rickshaw and taxi drives, to run on gas. So when the Central government announced in September that it had instructed oil companies to limit the sale of subsidised cylinders to six annually for every registered connection across the country, the 8 lakh consumers in the Valley let out a collective moan.
That order meant that while they would be able to buy six cylinders at the subsidised price of Rs 423 each, beyond that they would have to purchase them at the non-subsidised rate of Rs 972 if itís for domestic consumption and Rs 1,781 for commercial use. The real problem that was discovered immediately after the rule became effective was that for almost half the customers the registration and ID papers were not in order. That resulted in panic and chaos at the various outlets and people queued up to get the registration done. Two extensions by the state government have not helped clear the backlog.
Jammu and Kashmir Chief Minister Omar Abdullah is facing the heat of the discontent over the cooking gas crisis. With the Durbar having shifted to Jammu because of winter, Abdullah finds that it is not just the Valley that is seething. Even in the Jammu region, availability of cooking gas now dominates the discourse in most drawing rooms. There too registration has been sketchy and the number of unauthorised connections equal that of the registered ones, so there is a mad scramble to get these authenticated.
Omar told me when I met him on Thursday at his Jammu residence that he himself found the process of registration to be cumbersome. He had decided to surrender two of the three connections that had been registered under his householdís name and he was appalled by the paper work that had to be done. Omar had to get his documents attested by an authorised notary and attach proof of residence, including a copy of his electricity or phone bill.
For the Chief Minister, the convoluted process is only one of the many woes he faces when it comes to cooking gas. Omarís back-of-the-envelope calculation says that if his state decides to provide three additional cylinders at subsidised rates and pick up the tab, as some states like Delhi are doing, it would cost the exchequer Rs 225 crore. Currently he has in his kitty only Rs 250 crore and the sum is committed to meet not just salaries but other vital development works too. ďThe arithmetic just doesnít work,Ē Omar says, using a Bill Clinton turn of phrase.
How about providing electric induction plates for cooking, as Himachal Pradesh Chief Minister P.K. Dhumal promised his electorate during the recent Assembly poll campaign? Omar points out that the state is already providing electricity at subsidised rates, and if people switched to using these plates his power subsidy tab would shoot up. ďIt is a no-win situation, my state just canít afford it,Ē Omar points out.
To ease the heartburn over the backlog in registration and end malpractices (cylinders can be bought in black for Rs 1,300 each in the Valley) Omar suggests that oil companies paint non-subsidised cylinders in yellow or a dash of white to distinguish them from subsidised ones, which could remain red. This way, those who needed cylinders immediately could get one at the market price till the registration process was completed.
With over 100 million consumers of LPG facing a somewhat similar predicament across the country, itís time for the Central government to come up with innovative solutions. Perhaps the new Petroleum Minister M. Veerappa Moily could come up with some of them ó after all, in the recent past he chaired the Administrative Reforms Commission that produced several voluminous reports on governance and other issues. Itís over to Moily.