Win elections, stay in power
All actions of political parties seem to indicate that the only purpose for which political parties exist is to win elections, acquire state power and then start working to win the next elections.
Jagdeep S. Chhokar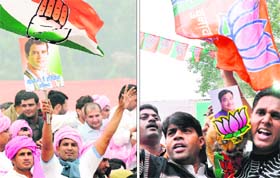 Before reading the two articles on the Oped page on October 04 by Kapil Sibal of the Congress and Ravi Shankar Prasad of the BJP, a reader might expect to see what the two leading political parties have in mind about the governance of the country. What the reader actually gets is Sibal and Prasad speaking against the BJP and the Congress, respectively.
Sibal: "Clearly between 2010 and today, all issues raised in Parliament were not at the instance of the principal Opposition party. In fact, the BJP has no agenda. It has no issues to raise. It is obvious that it paralysed Parliament in the last session without debate with an eye on elections in Gujarat and Himachal Pradesh."
Prasad: "The Congress strategy is very clear. First, deny the allegation, then abuse one who exposes corruption. In this even a constitutional body like the CAG has been condemned in the most abusive terms by Congress leaders, including ministers. The last part of its strategy is to cover the flanks and shield the corrupt. Accountability is brushed aside with impunity. This is the true record of the Congress."
Why do our political leaders behave like this-running the other down, all the time?
This question can of course be best answered by political leaders themselves but some speculation may be in order in the absence of explanations from the "horse's mouth".
Next poll on mind
The first explanation that comes to mind follows from what political leaders think is the purpose of political parties. All actions of political parties seem to indicate that the only purpose for which political parties exist is to win elections, acquire state power, and then start working to win the next elections. As a matter of fact, a supremo of one of the very important regional parties gave this advice to Anna Hazare and Arvind Kejriwal on August 16, 2011 when Anna Hazare was arrested, "My suggestion to these people is that they should form a political party, contest elections in 2014, satta mein aayaen, aur phir jo marzi karein (Come to power and then do whatever they like)."
The thought that one of the purposes of "coming in to power" is to govern or administer, does not seem to be a matter of concern to our political parties!
Even when some sections of the political establishment do think of governance, there seems to be a very serious disconnect between what the citizens expect from governance and what the political establishment expects from it. A common expectation, as reflected on the Wikipeida, says, "A reasonable or rational purpose of governance might aim to assure, (sometimes on behalf of others) that an organisation produces a worthwhile pattern of good results while avoiding an undesirable pattern of bad circumstances. Perhaps the moral and natural purpose of governance consists of assuring, on behalf of those governed, a worthy pattern of good while avoiding an undesirable pattern of bad. The ideal purpose, obviously, would assure a perfect pattern of good with no bad."
Good and bad outcomes
Following this, citizens expect that governance by elected parties will lead to "good" outcomes for them; the citizens, and "bad" outcomes will be avoided. However, political parties which come to power as a result of elections seem to think that the essential purposes of "governance" are (a) to stay in power as long as possible, and (b) take all steps necessary to ensure winning the next elections.
Since given the overall political and electoral climate in the country, the most important requirement to win elections seems to be only larger and larger amounts of money, the sole purpose of winning elections and coming into power, for all political parties seems to be to make as much money as possible by whatever means possible.
The parties that do not win the election and consequently do not come to power, feel that they have nothing to do with "governance" and their sole purpose seems (a) to prevent the so-called ruling party from governing, and (b) to get the government to fall, so that a fresh election can be held, giving them a shot at whatever governing is.
Sometimes a situation develops when the so-called opposition party while trying to prevent the so-called ruling party from governing, does not really want to topple the government in power. The cause of this unusual phenomenon is that the Opposition is not confident that it would actually get elected and acquire power if a fresh election is held. On the contrary, it is seriously doubtful of being elected. This is the situation that currently prevails.
Given this understanding of political parties, we can bid good-bye to that evasive entity called national interest. Unless the understanding of political parties changes, partisanship and parochialism would prevail, Parliament woud not function, governance would not happen, and political parties would continue to do as they like.
It is for the governed, for whom a worthy pattern of good is not emerging and an undesirable pattern of bad continues, to change this by making the functioning of political parties subject to some form of check.
The writer is a former Professor, Dean, and Drector in-charge of the Indian Institute of Management, Ahmedabad.