M A I N N E W S
Bal Thackeray dies at 86
Suffers cardio-respiratory arrest

Party leaders appeal for calm

Cremation today
Tribune news service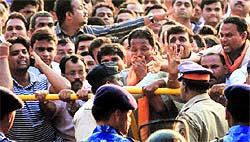 Police tries to control supporters outside the Matoshree after Shiv Sena chief Bal Thackeray died. — PTI

Mumbai, November 17
Shiv Sena supremo Bal Thackeray, who had been critically ill for the past several days, was pronounced dead today afternoon.
The 86-year-old cartoonist turned politician, known for his strong views and speaking his mind, sometimes bordering on the offensive, breathed his last at 3.33 pm at his residence 'Matoshree' in suburban Bandra. He is survived by sons Uddhav and Jaidev and grandchildren. He lost his wife Meenatai and eldest son Bindumadhav in tragic circumstances in the 1990s.
Dr Jaleel Parkar from Lilavati Hospital, who was part of a team of senior doctors attending on him, made the announcement of Thackeray's demise before the crowd at Matoshree, the residence of the Shiv Sena leader. "He suffered a cardio-respiratory arrest. We could not revive him despite our best efforts. He breathed his last at 3.33 pm," he said.
He went on to say that the Sena supremo was suffering from pancreatic and respiratory problems for a while. Thackeray's medical team was overseen by doctor and Shiv Sena MLA Deepak Sawant.
Party sources said Thackeray slipped into coma earlier this week and never regained full consciousness. However, his vital parameters which deteriorated on the night of November 13 showed improvement the following day and he was removed from life-support, party spokesman Sanjay Raut had said earlier. The Sena chief was continuously receiving oxygen as he suffered from respiratory failure.
This afternoon, senior party leader and former Lok Sabha speaker Manohar Joshi told the gathering outside Matoshree that Thackeray was making "slow progress". His body language indicated the tough battle the veteran leader was waging against the inevitable.
The stress of the circumstances also began to tell on his son Uddhav, who underwent a second angioplasty just a few weeks ago. Uddhav skipped a meeting called to brief the party's corporators in the Brihanmumbai Municipal Corporation earlier this morning. Those who attended the event said Uddhav was by his father's side.
As per the tentative programme announced by the Shiv Sena, the mortal remains of their leader will be kept for public viewing at the Shiv Sena Bhavan, the party headquarters, on Saturday. The body will be shifted to Shivaji Park, the venue where Thackeray founded the party and where he held numerous political rallies, on Sunday morning. The cremation is scheduled for 3.30 pm on Sunday.
Thousands of Shiv Sena activists began congregating outside Thackeray's house as news of his death filtered in. The entire stretch of the Western Express Highway from Bandra to Kalanagar, where Matoshree is located, was packed with people, but traffic continued to flow.
Security has been stepped up in the metropolis in the wake of Thackeray's death. Shiv Sena leaders have asked people to remain calm and not indulge in violence. However, shops and business establishments voluntarily downed shutters. Private transport also began moving off the roads.
Cartoonist-turned-politician
A rabble rouser, who started out as a cartoonist alongside RK Laxman in the Free Press Journal in the 1950s, Balasaheb founded the Shiv Sena in 1966 on the plank of job security for the Marathi manoos (sons of the soil)
Known for paralysing Bombay, as Mumbai was called then, at any opportunity, Thackeray initially concentrated on the metropolis, but later spread his politics throughout the state
He tied up with the BJP to remain its longest ally till date. Always the kingmaker, Thackeray was instrumental in ending the Congress hegemony in Maharashtra when the BJP-Sena combine stormed to power in 1994
The parties shared power even at the Centre between 1998 and 2004. He never occupied any office
PM calls off dinner
The dinner which was to be hosted by Prime Minister Manmohan Singh for BJP leaders tonight was called off following the death of Shiv Sena chief Bal Thackeray. The dinner was cancelled on the request of BJP leader Sushma Swaraj who later tweeted about it. P2