Journey of life
See and think beyond what you are used to. So believes talented actor Irrfan Khan whose film Life of Pi set the ball rolling at the International Film Festival of India, Goa, and hits the screen this Friday


'Definitions limit your experience. So don't try to make a formula out of things or seek short-cut answers through narrow constructs." So the hugely talented actor Irrfan Khan would neither describe his role in the Hollywood film Life of Pi nor the essence of the film, which is already making waves and opened to resounding reception as the inaugural film of the International Film Festival of India, Goa.
Making of cinema
While watching Life of Pi's spectacular scenes involving animals, particularly the tiger, in case you wonder how they managed to can it all; well, here is the answer. David Womack, the producer of the film, lets the cat out of the bag and informs that out of the 300 shots with the tiger only 20 are real.
team work: The cast of the play nnerDi with friends
Stage act
Director Feroz Khan, in Chandigarh with his play Dinner With Friends, feels quality infrastructure can boost theatre
The mention of an old interview that Feroz Khan gave years back to a newspaper brings an unassuming smile. "Oh that," it doesn't take much of brain-raking for him to recall the mention of theatre being creatively stimulating and not bombarded by intellectual terrorism.
Twilight in Bollywood
The Twilight saga culminates with the release of Breaking Dawn Part 2 this weekend. It has become a rage worldwide and is among the top 10 openers in the world. So, while Robert Pattinson's Edward and Kristen Stewart's Bella have a huge fan following, we try and cast five characters in an Indian version of the movie series, if it ever gets made.
Sanjay Gupta: Kagti is desperate to create buzz
It seems to be a war of words between Talaash director Reema Kagti and Sanjay Gupta of Zinda fame over plagiarism accusations. Gupta had allegedly accused Kagti of copying Zindagi Na Milegi Dobara from an international film. In her latest interview, Kagti slammed Sanjay saying that he shouldn't be questioning originality as he copies himself, denying the accusations.
Kissing Sarah Jessica Parker was a nightmare: Cooper
Hollywood hunk Bradley Cooper says he did not enjoy kissing Sarah Jessica Parker in TV sitcom Sex and the City. Cooper, 38, who guest starred in an episode of the comedy-drama series where he had to kiss Parker's iconic character Carrie Bradshaw, said it was difficult because he was being told how to be intimate with her.
Zoya's talaash
Zoya Akhtar and Reema Kagti co-wrote Talaash several years ago. The maverick director talks about the movie and more.
A risk worth it
Actor Karan Kundra, in Chandigarh to promote Channel V's new non-fiction show The Serial, says his capacity to take risks had paid him well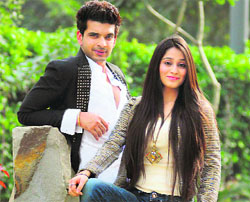 It isn't often that one hears an actor say that he isn't an actor first but an entrepreneur! Karan Kundra turns out to be something of a surprise package. He doesn't sing endless praises about his acting skills; he doesn't attribute his entry into the television industry to the cliché – 'well it had to happen'. In Chandigarh to talk about Channel V's new non-fiction show The Serial, along with TV actress Soumya Seth, the good-looking actor shreds the clichés into fine pieces.
Two to tango: Karan Kundra & Soumya Seth

TREND SETTER
Keep it simple
The words style, trends and fashion conjure up an image of somebody totally in sync with haute couture. But the ones who actually stand out are the ones who carry off what they wear with the right attitude. Navdeep Singh Brar, a B Pharma graduate had a stint in the modelling world. Here is his take on fashion …
Dark temptation
Come winter and all bright hues that do the talking. And it's not clothes that we are talking about, but we are hinting at the ultra-glamorous and bright lips that are making all conversation this season.
green thumb
Space it out
The seedlings that are once raised from seed may lead a long life giving fruit but it is not so with grafted plants. There is an age after which they become less productive and the quality is also impaired. They have to be rejuvenated to bring them to their original self.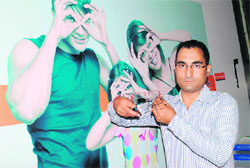 Eye contact
Titan Eye plus announces up to 40 per cent discount offer on its frames and sunglass collections. The offer is valid from Nov 20 across all Titan Eye Plus stores in Chandigarh. This offer is valid across the entire range of frames from in-house brands like Titan, Eye+, Dash and Cabana sunglass range from Titan Eye Plus. Customers can also avail this attractive offer on a wide of international brands. Also on offer is a flat 10 per cent discount offer on Titan lenses and a flat 20 per cent discount on all brands of contact lenses.
Home front
To cater the increasing demand of designer home products India's first e-commerce curated home products site, designdeal.com is launched. The site commenced with a spectrum of 400 products and the product categories include furniture, art, kitchen, bar, lighting and other home accessories. The ultimate aim is to offer the widest selection ever in India.
fashion funda
Tailored to perfection
What fashion designer Arjun Saluja brings on the ramp goes with what he thinks of fashion and the Indian fashion industry. He doesn't believe in following conventions, focuses more on the cut rather than on colour or bling factor. This was evident in the latest collection of his label, Rishta, at the WLIFW. His approach has made him a popular name in the industry. Know more about the season's trends from him.
chatter box
Knowing Niaa
Niaa Sharma aka Maanvi of Ek Hazaaron Mein Meri Bhena Hai feels her career couldn't have started better than this. Thrilled about it, she talks about her style and success.
The year ahead
If your birthday is November 22...
You'll be firm in a tricky situation and worn out by the excessive amount of work you'll need to do. You'll find a solution to a recent quarrel, but don't let your pride stop you getting immediate clarification. You're not getting the affection you desire and it's getting a tad tiresome.
Astro turf
ARIES: The Queen of Pentacles blesses you with the finest of quiet and subtle qualities today. Things happen quickly and you need to take sharp decisions. Children will be a source of joy. Tarot message: Don't accept situations you dislike. Lucky colour: Yellow. Magic number: 34

Tiger loves tiger
Salman Khan is mighty impressed by the promos of Life of Pi, especially the Bengal Tiger in it. So, he has asked his brother Sohail Khan to postpone the shooting of Sher Khan till they find, real or animated, such an impressive Royal Bengal Tiger for the movie.
Honeymoon express
Saif Ali Khan is really keen on going for his honeymoon with Kareena Kapoor. He worked ten-hour-shifts to complete dubbing for Race 2 and finished it in six days! He is wrapping up all assignments here so they can go on their well-deserved break and honeymoon! We wish them luck and joy and romance!

Double joy
Vidya Balan is getting married in December to Siddharth Roy Kapur. She is also happy that her sister Priya is moving to Khar with her family and will live pretty close to where Vidya resides with her parents. Now, total family bonding will happen and this will be such a joy with her wedding coming up!
Joy ride: Vidya Balan
Family outing
Abhishek Bachchan flew his entire family to Goa for daughter Aaradhya's birthday. Jaya Bachchan and Big B flew back so Abhi-Ash and Aaraadhya are spending alone time finally. Abhishek had been quite busy with work. This is the first holiday for the trio in a year.

New career
Actress Sonal Sehgal wants to revamp and re-launch her Bollywood career. Her prominent releases have been Aashayein with John Abraham and Radio with Himesh Reshammiya. She was a television actress before that.
Funny promo
Jab Tak Hai Jaan also saw the launch of a new YRF Y Films movie titled Mere Dad Ki Maruti. The movie is a comedy based in Delhi and stars Saqib Saleem (Huma Qureshi's brother), Rhea Chakraborty from MTV, Ram Kapoor and some newcomers. It looks great!
Busy girl
Ever since Gangs of Wasseypur got ready, Huma Qureshi has been busy with many projects such as Nikhil Advani's production and Vishal Bhardwaj's production to name a few.