good news
When elderly peers, not the family, lend a hand
By Sanjeev Singh Bariana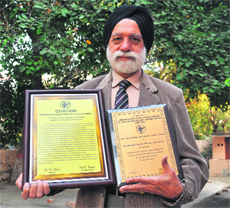 Daljit Singh Grewal, president of the association, with citations.
Eighty-year-old Nishan Kaur (name changed) was beaten up by her son in her sprawling bungalow in Sector 3, Chandigarh. A day later she met an office-bearer of the Chandigarh Senior Citizens Association. This was preceded by years of living in isolation and guarding against attempts of her son to sell the family property. Opening up slowly, she found the courage and the people to share her grief with and give a new meaning to her life.
An office-bearer of the association had to lock his house in Mohali and stay in a rented apartment because his son insisted on selling the property. He was helped by the association and its members accompanied him to meetings with his son for over two years till a solution was worked out. He has, since, walked with many others like him, trying to help them live with dignity.
Best team
Members of the association have shown commendable results in supporting those living alone; giving them a reason to smile once more, as they mingle, share and carry on with the business of life.
From nearly 3,500 such associations, the Chandigarh chapter was bestowed an award for the best overall team in the recent annual conference of the association at Thiruvananthapuram.
Daljit Singh Grewal, president of the association, retired as the chairman managing director at Hindustan Shipyard, Visakhapatnam. Having spent years in the coveted chair, he wanted to use his time doing something worthwhile. "A friend introduced me to the local chapter. I was impressed meeting people from different walks of life, working together to alleviate someone's pain. The greying population has remained in the background on the agenda of the government and even youngsters at home," he says. The members include retired IAS officers, former Vice-Chancellors, former DGPs, 200 senior Army officers and retired Chief Income Tax Commissioners.


Focus on fitness
The association lays emphasis on the well-being of the elderly. Six physiotherapy centres, besides centres for reiki, acupressure and yoga, have been set up in various parts of the city. Kulwant Kaur, a regular at the Physiotherapy Centre in Sector 16, says: "My visit to the physiotherapy centre has become the most important task of the day. I look forward to it. I am able to engage my body, meet people and spend my time happily. I have made four friends and our families (only the elderly) have weekly get-togethers."
The members can be seen trying to locate alphabet on the computer keyboard at Kukhrain Bhawan in Sector 35. Surinder Singh, a retired principal, walked into the bhawan to read newspapers at leisure, but soon became a computer expert and is now helping his son in his IT business.
Surjit Kaur, vice-president of the association, says: "More than a mere interaction, a common platform for seniors from different walks of life gave us a broader platform for sharing. It is encouraging to see youngsters joining us on specific training programmes to counsel for loneliness, sickness and neglect, which are the biggest bane of old age."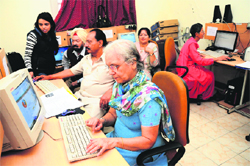 Learning again The elderly take computer lessons at Kukhrain Bhawan in Sector 35, Chandigarh. Tribune photos: Parvesh Chauhan
Women's empowerment
Except for a paltry amount of Rs 20,000, which comes from the government as aid, Rs 10 lakh is contributed by the members annually, says Daljit Singh Grewal.
The association has also extended its functioning beyond senior citizens. It also holds regular health camps and its pilot projects Shravanika, Vinita and Shakti are a benchmark for other NGOs. Project Shravanika was initiated by Lt-Col (retd) Sashikanta, inspired by the story of Shravan Kumar, the ideal son. A large number of people have taken it upon themselves to take care of the elderly, who they are not related to. A youngster, wishing anonymity, says for many years, he visited the house of Kanwar Pal Singh, a retired DGP, to read him newspapers everyday.
An advocate would go to the house of Jamuna Das and spend time with him. Jamuna Das died at the age of 103. At least two bi-monthly meetings on women empowerment (Project Vinita) are held at Mauli Jagran and Indira Colony. The women are told about hygiene and healthy living. Under Project Shakti, 100 girls from Bapu Dham have been adopted by the association to bear expenses on their education and heathcare and even help them settle down.
The association has done commendable work on drawing police attention towards the care of the elderly in their homes, which is important since several of them are left alone in the house after family members leave for work and children for school. Officers from all 146 police beats in the city presented their best foot forward to win the "best police beat" award during police felicitation functions organised by the association. Brig (retd) Keshav Chandra, a former president of the association, recalls: "When over 100 participants in a picnic at the Rock Garden in 1996 said an emphatic 'yes' to an association for senior citizens, it was then that the journey began."