Wave Inc., the industrial conglomerate owned by 55-year-old Gurdeep Singh 'Ponty' Chadha and his family and officially valued at Rs 2,500 crore, virtually follows no rule in the conventional rulebook of conducting business.
Much like its actual worth, which sources claim could easily be an extra '0' (Rs 25,000 crore), details are hazy about the diversified business which was first started by Ponty's father, Kulwant Singh Chadha, in the 50s by setting up a liquor shop at Ramnagar, now in Uttarakhand.
Since then, the business portfolio of the Chadhas has grown to include vast interests in sugar and paper manufacturing, distilleries, real estate, multiplexes and liquor retail management.
What is politely described as the 'liquor retail management' on the company's official website is in fact the art of becoming the lone wholesaler for liquor in Uttar Pradesh — a Rs 14,000-crore business as per the 2011 figures — by elbowing out all other players.
United they fell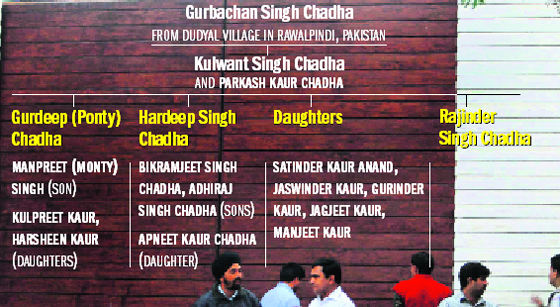 There was a buzz outside the farmhouse in Chattarpur after the murders. PTI
PR not for him
Business houses usually have PR departments, but Chadha's empire was conspicuous by its 'invisibility'. It had no high-profile PR exercises to launch new projects, no press meets, interviews, page 3 parties, free junkets and Diwali gifts. Ponty was best served by a few friends in the media who were his eyes and ears in the corridors of power.
ASSOCHAM Secretary-General DS Rawat says industrialists like Ponty Chadha have no public profile. "The business philosophy of people like him is an anti-thesis of what industrial bodies strive for. While we want liberalisation, transparency and a level playing field for all businesses, people like Ponty thrive on secrecy and permit-license-quota raj," he says.
What many saw as crony capitalism, Ponty learnt how to get around rules if they didn't suit him. Old-timers recall that the first major political contact that he made was the then BJP Chief Minister, Kalyan Singh, in the early '90s. Kalyan Singh's son Rajvir was reportedly his business associate in the liquor retail trade in west Uttar Pradesh. It was during Kalyan Singh's tenures that the group diversified into sugar manufacturing and paper making.
Cultivating politicians
A senior BJP minister, now an MLA, was close to Ponty who would allegedly pay mobile bills of the minister's staff. Such gestures were used by him early in his career to cultivate politicians and their hangers-on to find his way in the corridors of power in UP, Uttarakhand and Punjab.
Later, he did not need intermediaries as he had direct access to the top brass in the governments. A reclusive politician like Mayawati is said to have personally attended his phone calls and took his advice seriously. The fall of senior party leader Babu Singh Kushwaha from grace is believed to be largely due to Ponty's negative feedback.
His liquor and sugar mills flourished during Mulayam Singh Yadav's previous regime and he donated generously to all political parties. His son Manpreet 'Monty' was present at the swearing-in ceremony of Akhilesh Yadav as Chief Minister.
The government has now decided to withdraw all cases against Ponty in the state. While not unfamiliar with the advantage that political friendships bring, Ponty's meteoric rise came during the 2007-2012 BSP rule, when virtually every major contract went his way — be it in liquor retail, real estate, mining or sugarcane industry. Erstwhile bigwigs in the liquor trade like Jawahar Lal Jaiswal, Badri Prasad Jaiswal, Rakesh Pandey and Ashok Wadia, were put out of business after Ponty secured the entire wholesale rights of liquor and liquor vends in a dozen lucrative districts of west UP.
In Lucknow alone, he owned 18 beer shops, 92 country liquor shops, 35 model shops and 115 foreign liquor shops. In the entire state, 16,000 big and small liquor shops were being run by him.
The conjecture of an unknown person present at the time of the Chattarpur farmhouse shootout that killed Ponty and his younger brother is based on the theory of out-of-job liquor traders conspiring to eliminate Ponty to regain entry into the liquor trade. His real estate business in Nodia and Greater Noida allegedly aided by the Mayawati government was challenged on September 25, when the Supreme Court issued a notice to the Uttar Pradesh Government on a petition challenging the allotment of land to Ponty. The petition was filed by 94 farmers whose land was acquired by the government.
For years, like "Mr India", Ponty lived far away from the prying eyes of the media. His daughter's lavish wedding in Dubai, attended by business tycoons, politicians and film stars, was not projected as another "fat Indian wedding".
Income tax raids
He hit the limelight when the income tax department conducted raids at his 25 houses and business establishments in several cities. A sum of Rs 125 crore was reportedly unearthed at one site alone. The officials were investigating his links in the Rs 5,000-crore NRHM scam and the possible flow of funds from West Asia through the hawala route into his businesses. While there was no follow-up in the cases, the myth of his "splendid isolation" exploded. Nine months later, he hit the headlines again when he and his brother were shot in an ugly duel at their farmhouse in Delhi.
Mayawati's largesse
Mayawati's rule was instrumental in making Ponty the liquor baron of Uttar Pradesh by allegedly tailoring excise policies to strengthen his monopoly. He became the sole distributor of liquor in the state, allegedly even charging above the MRP. The excise policy continues under Akhilesh Yadav and will come up for renewal in March 2013.
During Mayawati's regime, Ponty was also the main beneficiary of the government's decision to divest stakes in 11 sugar mills owned by the state's sugar corporation. The Comptroller and Auditor General had indicted the BSP government for the deal, believed to have caused a loss of Rs 2,000 crore to the exchequer.
After dithering in taking action for months, Akhilesh Yadav's government finally ordered a Lokayukt probe into the controversial sugar mill deal on November 6.