M A I N N E W S
China 'not to oppose' India's UN seat bid
New Delhi, November 28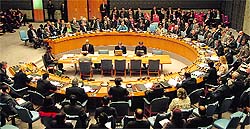 China today said it doesn't have a policy to oppose India's claim for permanent seat in the UN Security Council.
"Reforms in UN Security Council is important as there should be more representation from developing countries. We welcome more positive and active role from India in the UN.
"China doesn't have a policy to oppose India to the permanent seat," said Li Junru, former Vice President, Central Party School of the CPC and member of Standing Committee, National Committee of Chinese People's Political Consultative Conference.
He said China values its neighbour and views it as a partner.
"In China, we have a saying that a neighbour is better than a far-off relative. Of course, some unfortunate incidents took place in the past but we believe we will add a new page in the history of China-India relations which is of over 2000 years of friendly existence," Li said during a conference on 'Implication of the change in leadership in People's Republic of China: Internal and External dimensions" organised by Observer Research Foundation'.
A Chinese delegation, led by Li, is visiting India.
The Chinese official said faster growth of India was good for China as it is said that this decade could not be of China without the growth of India.
Zhang Yangseng, secretary general, Academic Committee, National Development and Reform Commission said there was a need to increase trade cooperation between both the countries.
"There is a trade imbalance of $ 27.17 billion between the country. We have to cooperate how we could overcome it," he said, adding about 20 per cent of anti-dumping lawsuits are against China which needs to be looked into.
He stressed there was a need to make investments in each other countries and said India's investment in China was less than $ 100 million while China's was $ 500 million.
Zhang also said that to increase trade relations between the two countries, "We should explore new role model and look for cooperations, strengthen strategic and economic dialogues and its proper time to look at Free Trade Agreement (FTA)."
"India and China are two great developing countries and can work together to open up our markets to achieve a win-win situation," he said. — PTI