Classic case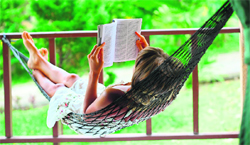 On any given day, most people will pick up comic books and happy endings than tragic works and harrowing literature. Well, generally. Perhaps, some subtle changes in the readers' preferences could explain the downslide of certain classics. If a recent study is to be believed, literary works by Thomas Hardy, George Eliot and EM Forster have fallen in popularity over the last two decades.
Cold, colour & cut
For a while now, men are an equal contender on fashion front. And when the talks are all about winter dressing, winter 2012-13 in men's wear is all about striking, eye-catching solid colours, slim fits and minimal lines that accentuate the silhouette rather than hide.

Decoding politics
A five-year stay at the embassy during the days of divided Berlin is no easy matter. But then so is serving as a politician in communist Czechoslovakia and post-communist Slovakia. "When I left politics, I said to myself, I'll put all my experiences in books," which is why, Slovak journalist, diplomat and author Jozef Banas hasn't run out of matter ever since he took to pen in 2006, criticizing the higher echelons of the Catholic church to weaving a dramatic story of love and friendship.
TREND SETTER
Going with the flow
Every person has a sense of style. Yet, there are only a few who'd attract the second glances, who have the power to make the camera go zoom on them. It could be the tousled hair or the torn jeans. Our this week's face in the crowd Aanchal Goyal, a student of the Government Home Science College, believes in spontaneity when it comes to dressing.
green thumb
Timely action
If you have planted the winter annuals by now you are in time and if it has been too recently then you were just in time. There is not much scope to delay it.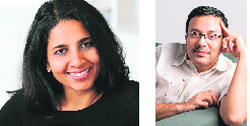 Road to fashion
India's first social shopping platform for women LimeRoad.com was launched on Wednesday, bringing a whole new experience online.




Suchi Mukherjee & Manish Saksena
CELEB POINT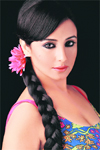 Beneath the glitter
This is one profession which is truly of extremes! If it gives you, it's the status to be worshipped and if you are rejected, you would not be able to hold yourself up. Scary, but that's the truth. Everyone wants to look like so and so actor, wear their kind of clothes, have that kind of style statement. Nothing wrong with that. But the point is that unlike any other profession, whether you are a professional or a businessman, nothing depends on your looks, except for this profession. Acting or modelling!
GET PHYSICAL
Eye for energy
Yoga postural mudras
The postural mudras can be asanas with the contraction technique of the subtle skeletal muscles, mostly in the areas of the pelvis or it can be concentration or focusing techniques utilizing the sense organs of the ears, nose, eyes, tongue and lips. These types of mudra centralise and strengthen the energy in the body.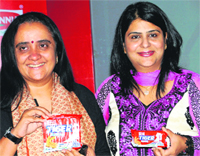 Fit for a tiger...
Britannia Tiger, one of the biggest brands in the kids segment, has re-invented itself to revolutionise the concept of kids' nutrition in the country. Enriched with growth nutrients across all its variants –Glucose, Krunch Cookies and Creams, Britannia Tiger comes with the credo of Roz Badho.

(L- R) Anuradha Narsimhan, category director Britannia Industries Ltd and Pallavi Jassal, consultant- nutritionist at the launch.