Notes that byte
There has been a tectonic shift in the kind of music that is popular with young people. These are exciting and happening times for music lovers as well as music makers as electronic and digital beats resonate
Kritin Joshi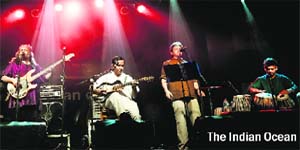 With the advent of technology and various tools, devices and methods to compose the perfect and most alluring sounds, music has evolved from the auditory to the sensory and has become a sixth sense in the true sense of the word. India, today, is headed for a demographic sweet spot. Besides having the second-largest population in the world (1.21 billion in 2011), it is a young nation with a median age of 26.2 years.
Desi beats
Siddharth Sharma
The past few years have seen international music festivals flooding India with genres beyond Bollywood, Pop and Bhangra. The Club and Lounge music culture has also supported this change that grew not only in the metros but also in smaller cities all across India. If we look back, music always grew with the youth. Keeping this in mind, new artists have been quite successful in developing styles that would attract the youth.
---
Arts
'art & soul
An achievement and a controversy
Rabindranath Tagore's Gitanjali brought, for the first time, much acclaim to a non-European work of literature
B.N.Goswamy
Everyone — or nearly everyone — knows Gitanjali, the celebrated work that won Rabindranath Tagore the Nobel Prize in 1913 and, as a natural corollary, worldwide fame. This was the first time that a non-European work of literature had been so awarded, and the first time that something coming out of the cultural matrix of a subject people in a colonial world had been so acknowledged.
---
Sports
Spinning a web
Spinners have emerged as a fearsome force as the recent India-England Tests have shown
M. S. Unnikrishnan
Spinners and turning tracks have been synonymous with India's Test wins over the decades. There was a time when India solely depended on spinners to deliver. Bishan Singh Bedi, Bhagwat Chandrasekhar, EAS Prasanna and S. Venkataraghavan were all class acts who snared the rival batsmen to their doom with their spin tricks to give India many a Test win.
Another shot at success
After a three-month break, following the London Games, ace discus thrower Krishna Poonia is ready to start afresh without the baggage of bad memories
Gagan K. Teja
Putting an end to all speculation that she may bid farewell to sports after her improved but unsuccessful attempt to bag a medal at the London Olympics, ace discus thrower Krishna Poonia is back on the track at NSNIS, Patiala. She is preparing for two major events ahead —the Asian Championship in July 2013 and World Championship in August.
---
Society
A record atop the world's roof
Young people were happy to participate in a Green-Ladakh drive. This intiative coincided with the fourth Annual Drukpa Council at the Hemis monastery
Taru Bahl
THE Ladakhis, quite oblivious to murmurings of discontent, are content to practise the Buddhist philosophy of compassion, tolerance and love, following the "middle path" and place complete faith in their religious leaders. In Leh to attend the fourth Annual Drukpa Council meeting at Hemis Monastery, which is Ladakh's largest monastic institution, the congregation saw thousands of locals who came to pay obeisance to their leaders and listen to the teachings of the masters.
---
travel
The liveable, loveable city
From chocolate to cricket, Adelaide, which has something for every travel aficionado, is a little secret that awaits discovery
Ranjita Biswas
Australia is more than Sydney or Melbourne though that's the image that comes to the mind initially. There is much more to it. Adelaide, the capital of the state of South Australia, is pleasant surprise. In fact, Adelaide has been voted as one of the most liveable cities in the island continent and is a centre for cultural activities.
---
Entertainment
Average fare
Many films at IFFI, Goa, were average and not of the quality one would expect at an international festival
Ervell E. Menezes
The International Film Festival of India (IFFI) 2012 chugged along but none too smoothly, and despite being the ninth year in Goa, the glitches only keep changing, not decreasing. The overall quality of films was average, with the opening film itself Ang Lee's Life of Pi being a major letdown, not in the festival class at all.
In quest of illumination
Krzysztof Zanussi's films have been about the larger cause of humanity
Nonika Singh
Much before his wisdom and understanding of life bowls us over, Poland's celebrated filmmaker Krzysztof Zanussi's amazing sense of humour strikes a chord. So on the Lifetime Achievement Award conferred on him at the International Film Festival of India, Goa, 2012, his first take is, "Behind this honour lies the obligation that I must soon die.
Model cars
If you thought producers spent millions on James Bond's Aston Martin DB5, which was put through a series of huge explosions and stunts during the filming of Skyfall, including one scene where the priceless vehicle exploded in flames — think again. Three replicas of the classic car were created using a large scale 3D printer for the filming of the latest installment from the spy series.
---