Corporation casts property tax net wide
Vacant plot owners, tenants, jhuggi dwellers all to pay property tax; eight zones to be formed in the city for imposing the tax
Megha Mann
Tribune News Service
Bathinda, December 6
The holders of vacant plots, tenants and even slum dwellers will have to pay property tax introduced under the Punjab Municipal Corporation Act, 1976, in the city.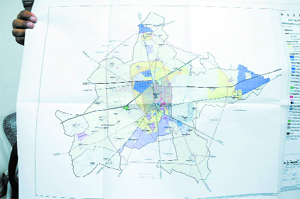 The entire data of properties in the city would be digitised with the help of GIS. Tribune photo: Pawan Sharma
While commercial property holders, who are already paying house tax, will start paying the new tax from April 1, 2013, the owners of houses of 50 square meter and 100 square meter areas will have to pay the tax before March 31. The owners of residential areas above 100 square meter would be divided into eight zones in the city.
The assessment would be applicable to them on the basis of the unit area based property tax assessment methodology.
Elaborating on the provisions of house tax before the general house of the Municipal Corporation Bathinda (MCB), municipal commissioner Uma Shankar Gupta said the tax has been imposed since November 15 this year.
The owners of 50 square meter houses will have to pay Rs 19, while that of 100 square meter area will have to pay Rs 26 till March 31. The tax will be payable at the office of the municipal corporation. The owners of vacant plots of these sizes will have to pay 0.25 per cent of annual unit value.
The owners of houses above 100 square meter in area will pay taxes after their areas have been divided into eight identified zones in the city. The eight zones will also include various commercial properties.
A zonal committee, including members of the house, corporation, MLA and the representative of the local MP, will work on dividing the city into eight zones.
The committee will issue a public notice inviting objections about zoning.
To decide the unit value of different zones, Gupta said that district collectorate rates would be considered. The value of land, cost of construction and the value of rent would be considered before deciding the valuation. The unit valuation committee will also issue public notice and invite objections within 30 days. All local bodies have been directed to complete the record of units by January 15, 2013.
Property tax would be self-assessed
The corporation will provide slabs of various charges and the owners will have to pay taxes as per their property. The corporation is already working on Geographical Information System (GIS) with which the entire data of properties in the city would be digitised.
Already, work on 8 to 9 wards has been done. "Every self-assessed tax form, when entered into our system, will come up with accuracy. If any property owner tries to conceal any criteria regarding his property, our GIS system will promptly point out the anomalies," said Gupta.
He said the rates and slabs too would be provided and at later stages, the entire procedure may go online. The procedure is also expected to solve frequent controversies over assessing the taxes of properties.
Fact file
* Taxes would be payable till September 30 every year. Anyone paying tax after September 30 will have to pay 15 per cent penalty. Also, anyone paying tax before June 30 will be given a rebate of 10 per cent. Kiosks would be opened in all the zones enabling people to pay their taxes nearer home.
* Tax would be levied on all kinds of properties including Wakf Board and shamlat land too.
* No tax shall be payable on buildings and land exclusively used for religious purposes, religious rites, religious ceremonies, cremation grounds, burial grounds, gaushalas, stray animal care centres, historical and heritage buildings, charitable and philanthropic organizations and land being used exclusively for religious functions or festivals.
* Self-occupied residential buildings having a total area of 50 square meter and 100 square meter are to pay Rs 50 and Rs 150 annually
* Annual unit value means 5 per cent of total unit value in case of residential buildings, 20 per cent in case of malls and hotels with five starts and 15 per cent for others.
* In any zone, tax on commercial property will be 12 times that of the residential property