Punjabi curry, English tadka
More and more English words are finding their way into the lyrics of Punjabi songs. Little wonder the songs rock…
Tainu suit nahi hai weather, tu firain ksaai leather…chad gaye jawaani kudiye karey burrah burrah. Punjabi singer Geeta Zaildar's number from the film Burrah rocks at every party. People jump, dance and aim for the sky when it plays. If you happen to sit for a fraction of a second, you would end up smiling — the interesting song is garnished heavily with English words, which only perks up the song. You think you have missed out on something, just pick up any Punjabi song and track at least 10-15 English words are embedded in every number!
Learning, fun way
Discovery Kids launches its first India production, Mystery Hunters India , which unravels a host of mysteries associated with our country

Entertainment embedded with learning is the stuff that parents dream of. When kids don't mind either, everything falls in place. Throw in a bit of adventure and that's the way to go! Travel the length and breadth of the country, exploring places, delving into tales that have bewildered people for ages. Discovery Kids launches its first India production, Mystery Hunters India, a series that demystifies intriguing myths of India.
Knowledge hunt: A still from the show Mystery Hunters India
Winter warmers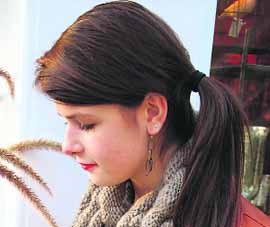 A chunky belt, an animal-print scarf, an oversized pair of ear-rings... top it all with a tortoise-rimmed shades & voila you are ready to eclipse the winter sun
After months of bare necessities, here comes the time of plenty. And when we talk of that, the first thing that comes to mind is winter accessories. Although belts are the biggest trend in this section, scarves, bags, caps and jewels are not far behind. Belt up: It's official, belts are big this season. "When we say belts, they are everywhere this season. Right from sweaters to the trend of wearing it over a coat or even on a cape, it's the trend of slim belts that we will witness this winter," says Akhil Duggar, creative head, Madame.
Astro turf
ARIES: You can bring dreams back into focus with the added benefit of your age and wisdom. You will be in the mood to meet people from different walks of life. Tarot message: You shall prevent a lot of trouble by taking timely action. Lucky colour: Fuchsia. Magic number: 46
The year ahead
If your birthday is December 8...
Taking over responsibilities for a friend or lover boosts your self-esteem. You're a natural nurturer and you can help someone with a burden of stress and strain. This year, you will make optimum use of your ability. If you're not sure how to perform certain jobs, learn., whatever it is. Adding to your skills and qualifications will make you a hot commodity on the job market.
Chatter box
On a high


Aditya Redij, currently seen in Junoon--Aisi Nafrat, Toh Kaisa Ishq, has proved his acting skill in Naa Aana Iss Des Laado and Preeto. Here he talks about his role, his makeover and his love life…
Why did you choose to take on this show?
For the role, what else? Prithvi is an enigma. He is fierce, loyal and very different from what we have seen anyone on TV. When I heard about this role, I knew I would be doing it. Also, I loved the fact that I would get a chance to do stunts. It's a great high.
Friends & Family
John Abraham's fortunes have turned around this year with the success of Vicky Donor and he has some big and anticipated projects like Race 2 and Shootout at Wadala coming up. He is also getting married soon. He talks about the people he admires the most.
First-day-first show
Game over
Khiladi Akshay Kumar returns in the company of Raj Babbar, Asin Thottumkal, Mithun Chakraborty, Paresh Rawal and Himesh Reshammiya in a typical Bollywood masala flick. Khiladi 786 is all about match-making. What follows are song sequences, comedy and action. Here are the early viewers sharing their quick take—
Comedy show: It's a typical Bollywood comedy-action film. You name a comedian and he is there — Johnny Lever, Paresh Rawal, Kapil Sharma, Bharti Singh and Gurpreet Ghuggi. Funny film, a good one- time watch.
Farah praises Kareena
Choreographer Farah Khan is happy with the response of Fevicol Se item number from Dabangg 2 and she goes gaga over Kareena Kapoor who grooved to the tune. Farah is happy with the response so far. "I am very happy. I do very few songs a year and I normally choose. I heard the songs of Dabangg last time as well and chose Munni badnaam, but this time Arbaaz (Khan) had already picked Fevicol se for me," the 47-year-old said.
Priyanka vs Parineeti: Sisterly love or war?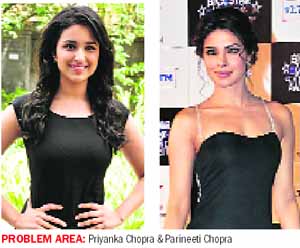 With a new league of actors making their presence felt in the film industry, the box office and awards ceremonies clearly showcase the clash of the titans. But what does one do when the two titans fighting it out are in fact family members? Such is the case with actress Priyanka Chopra and her talented cousin and fellow actress Parineeti Chopra. The two leading ladies have been nominated as the most Entertaining Actor in a Romantic Role at the Big Star Entertainment Awards. While Priyanka has been nominated for Barfi, Parineeti has proved her mettle with Ishaqzaade especially since both sisters won critical acclaim for their respective roles.
Work in progress


If Sanjay Leela Bhansali can set Shakespeare's love tragedy Romeo & Juliet in Gujarat then why can't Shekhar Kapoor situate the same timeless material in futuristic Mumbai and shoot it in Singapore? That's exactly what Shekhar will do in Paani. The film is a tale of star-crossed lovers from incompatible social stratas where the girl would be an upper-class elite of Caucasian pedigree while the boy would be a tanned, bare-bodied, desi ruffian with the manners of a street urchin and the lingo of a fish seller.
Fast forward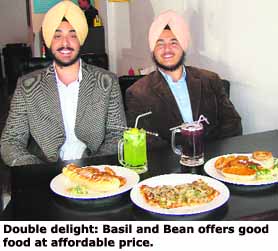 Basil and Bean Co-35, a fast food café, introduces budget eating with the revolutionary 99 concept, where every dish is for Rs 99. Karan Deep Singh Suri, the owner, assures quality as well as quantity food at his joint. Freshly baked breads in burgers, sandwiches and wraps are accompanied with green leafy lettuce, sauces and 100 per cent chicken patties. Other options include Lebanese falafels, peanut butter jelly sandwiches, banana splits, Mexican, Classic, BBQ chicken and Cuban style wraps, bacon, lettuce and tomatoes BLT American sandwiches, omelets and many more options. Drinks come in choices of two beers for Rs 99 coolers- strawberry, green apple, watermelon and cucumber served generously in tall glasses all for Rs 99. Coffee, refreshers, smoothies, shakes and mocktails. Indian tastes are also not ignored. Check out the chicken or prawn curry with rice. — TNS

Under the weather?
Asin had to skip a few rounds of promotion for Khiladi 786 because she was unwell. Is that because the promotions are taking a toll on her or she is under the weather? Akshay promoted the film solo. Frantic phase: Asin
Big deal!


Kareena Kapoor signed an endorsement deal for Rs 8 crore and now Deepika Padukone has been paid Rs 6 crore to endorse Garnier. Her performance in Cocktail and the success of the movie has given her a glamorous image and has upped her demand in the ad world. She is now among the highest paid actresses for endorsements.
Service at your doorstep
LG Electronics has launched an innovative campaign Lifestyle and Service on Wheels in Chandigarh. The company has a compelling range of premium offering across various product categories. This vast and differentiated range will help consumers create a lifestyle that blends technology with style. The campaign aims to provide firsthand experience of how you can beautify your home with world-class premium products. The Lifestyle and Service bus was flagged off by Surinder Sachdeva, branch manager- Chandigarh. — TNS

Unbelievable act
Anushka Sharma was blown away by Pankaj Kapur's performance as a flamboyant millionaire who loves wine and women and could not believe it when she learnt that he is a teetotaller in real life. He gave perfect takes every time. He is one actor Vishal Bhardwaj works with in several movies.
Perfect take: Anushka Sharma

Meeting the star
Salman Khan has girls swooning over him and Sophie Choudry is no exception. She grew up being a fan of his and watching his videos everyday! So she was over the moon when she danced on stage with him at a concert in Dubai. She considers herself to be the luckiest girl in the world! Of course, she has met him socially earlier.
Lucky girl: Sophie Choudry
Old grudges


Saif Ali Khan skipped the premiere of Jab Tak Hai Jaan because he has an old grudge with Yash Raj Films. His role in Tashan was chopped, allegedly by Akshay Kumar, who sits at the editing table. Saif should have attended anyway. He went to meet the family after the veteran's passing and funeral.
Boycott mode: Saif Ali Khan