Doomsday masala

Come December 2012 and doomsday talk gathers momentum. December 21 is the day, they say, that will bring a momentous change! While rumour mills are working overtime, tabloids are full of how to prepare for the approaching calamity; so do various websites (well, there is december212012.com that claims to be the official one). The world might not be ending, but the year 2012 certainly is! What better time to check out what this prediction means to city folks and what figures on their bucket list.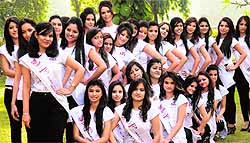 Beauty no bar
There they were twenty nine of them; parading down the hall, with one hand firmly on the waist and their respective saches in place. Women of every size, stature, height, demographics, colour, background, qualification, shape, temperament, perhaps and even age…. Face of The Year —2012 contest, it seems, is devoid of any bias.
Say cheese: The twenty nine contestants of the Face Of The Year 2012. Photo: Manoj Mahajan

Pursuit of dreams
Mandy Takhar, the UK born Punjabi actress, is super excited about her upcoming film Tu Mera 22 Main Tera 22. She giggles as she names the film and how the title has been misjudged, mispronounced…
TREND SETTER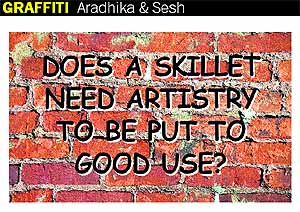 Shades of fashion
Many aspects go into the making of a trendsetter but one common denominator is the correct attitude which highlights the inherent style of the individual. Such a stance always gets noticed, dress and apparel notwithstanding. A student of International Business, Abhinav Jain looks for subtle elegance…..
Master Chef
Fire up the grill
The gourmand may go in for a variety of global cuisine but nothing beats our good old traditional food. The succulent tandoori chicken was the hot favourite at the Foodies Barbecue Meet in Ludhiana recently.
stress buster
Find your way…
Stress comes in various forms from many areas of life and stress relief comes in many forms too. Some people have one favourite way of handling their stress.
Kristen Stewart, Ben Affleck to star in Focus
Twilight star Kristen Stewart has confirmed the rumours that she will be starring opposite Ben Affleck in a comedy titled Focus. The 22-year-old actress has entered talks to appear in the Warner Bros production as an inexperienced con artist who hooks up with the more seasoned Affleck, reported the Huffington Post.


On the cards: Kristen Stewart
In memory of Mercy
Kim Kardashian's snow-white kitten Mercy, which was a gift from rapper beau Kanye West, three months back, has died from "a cancer-like virus often associated with breeding." The reality star shared the sad news on her blog, saying that she was heartbroken, reported a publication.
the 'in' side
Placement theory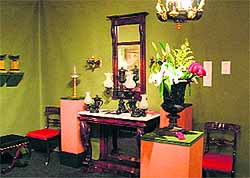 A collection can be anything from shells to matchboxes, dolls or genuine antiques, and the flair with which you display your treasures is what will make them even more interesting for others to see. Do not be afraid to use all the vertical space available. Tabletops can only hold so much without looking cluttered. If you tend to collect smaller antiques, then custom shelving is a great way to showcase your pieces or frame them. A collection of antique keys would look great framed rather than in a shelf.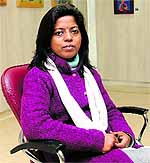 Women-centric
Being a professor at Kurukshetra University has helped Jaya Daronde understand the life of women in small towns. The same is exactly depicted in her works exhibited at the Art Portfolio, Sector 9. Instead of making paintings on how women are deprived of their social rights, she has given shape to their emotions. "That I feel is a far more important issue. Even in the so-called liberal society, a woman doesn't feel free enough to express her feelings for a man. She keeps her attraction towards the opposite sex suppressed."
Find your way…
'Am I stressed,' I heard my client mutter under his breath as I saw him walk in through the door of my office. I knew he was reeling under major pressure and could hardly contain himself and I also knew that he was maintaining a semblance of normalcy despite it all.
Fit 'n' fine
Television actor Karan Chhabra shares his fitness mantra and eating habits with us…
STAR TRACK
The creative call
Hrithik Roshan works for passion and creativity, not money. He was offered nearly Rs 20 crore by an international cell phone brand for an advert but he turned it down because he was not happy with the creative concept of it. He did not budge. He is a perfectionist.
chatter box
Here we go
Manav Gohil better known as Anirudh Jaitely of Channel V's The Buddy Project is all set to take a 15 day vacation to Australia with his family. This will also be his baby daughter Zahra's first international trip. "I would be taking a short break from The Buddy Project as I have to meet my elder brother who stays in Australia. His wife has given birth to a baby girl. So, the first week will be all about socialising for Shweta (Kawatra), Zahra and me, post which we will have fun time," says Manav.