M A I N N E W S
Facing flak, govt lists out safety steps


Buses with tinted glass, curtains to be impounded


Will have to keep cabin lights on
Tribune News Service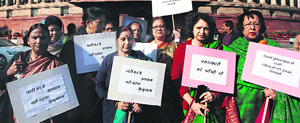 BJP women MPs protest outside Parliament on Wednesday. Tribune photo: Mukesh Aggarwal

New Delhi, December 19
As public anger continued to mount over the brutal gang rape of a 23-year-old girl in Delhi, the government today announced a raft of immediate safety steps, including a drive to ensure removal of tinted glasses and curtains from buses, increased police patrolling and five fast track courts to deal with such cases.
While ordinary men and women took to the streets, MPs raised the issue both inside and outside Parliament, keeping the government on its toes. Led by Sushma Swaraj, BJP MPs staged a protest in front of Parliament. Later, women MPs met Home Minister Sushilkumar Shinde, Women and Child Development Minister Krishna Tirath, Chief Minister Sheila Dikshit, NCW Chairperson Mamata Sharma and Police Commissioner Neeraj Kumar and demanded stringent action against the accused and proper measures to make the Capital safer for women.
Responding to queries raised by Rajya Sabha members on safety steps being taken by the government, Shinde assured immediate crackdown on buses with tinted glass and curtains. He said the buses found flouting rules would be immediately impounded.
Henceforth, all buses plying on Delhi roads would have to keep their cabin lights on and vehicles would be parked on the premises of owners. Photo identity cards of drivers would also have to be displayed on the bus with helpline numbers in bold.
It was also decided that mobile phone number and licence number of drivers will be displayed in bold on buses. The police had also been asked to provide more number of vehicles for patrolling, Shinde said.
He said a woman IPS officer would head a police team which would take stock of the medical condition of the victim and remain in touch with her parents on a daily basis.
He said the incident went unnoticed by the PCR vans as no voice was heard from inside the bus, whose window panes were tinted and curtained.