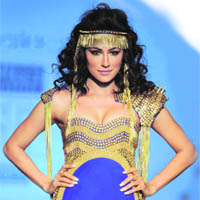 Heavy metal
Certain fashions never climb down the ramp. They stay there, above the ground, on the models. Yet when they venture out of the designers' studios, cross the green-rooms to step on the ramp, they are received well. Not primarily for the 'wearable' factor, but the experiment they involve. Sometimes it's the cut that makes these creations different while at other times it's the dress material. A combination of both makes necessary to devise a term for this form of fashion that is neither couture nor pręt.

A creation by Kanika Saluja

Oh-boy-Aarya!
This is not something new, something that we haven't heard of. This isn't earth-shattering either; celebrities face it all the time. More than their work, it is what happens behind the scenes that interests people more. So this justifies why every second day we get a spicy dope on actor Aarya Babbar's proposed marriage. The actor, shooting in Chandigarh and Punjab, can only shrug his shoulders, smile and state: "I am not married, the day I decide to I will send moti chur ke ladoo at everybody's place."
Brewing a storm


The food industry is expanding at a rapid rate with the options increasing every passing day, which is making eating out an adventure for the foodies. The enterprising town of Ludhiana is known for many firsts and now we have a swanky eating joint with fresh beer brewing inside it!
Good times: An inside view of the Brew Master

The 'in' side


Shifting patterns
The year 2013 is round the corner and as a designer I see a slight shift in the colour trends. The beige and neutral trend will continue to go strong. Dominating colours next year will be sophisticated. Jewel tones like emerald, turquoise, amethyst, jade and ruby reds will top the list. You will also see a lot of aqua greens and wine colours.
GET PHYSICAL


Any time, any place
Fitness freaks whenever advised to perform squats, hesitate to do so. The reason for this unwillingness is that squats have long been criticised for being destructive to the knees, but research shows when done properly, squats actually improve knee stability and strengthen connective tissue.
TROUBLE SHOOTER


Pressure point
I like this boy and have been seeing him for three years. However, he is still studying while my parents want me to get married and settle down. I have a good job. I cannot live without my boyfriend but I cannot deal with the pressure. My parents will not wait for 3-4 years although I am just 25. I have tried breaking off with my boyfriend but I call him up again and again.
A global wardrobe
For starters, she doesn't do fusion, the highly confused and abused term used by most of the designers. Then there's a conscious effort to not fall into the trap of bling.
Coming soon
For kids only
Chandigarh KidFest 2012, a two-day event to channelise creativity among school-going children is being organised at Kalagram from December 22.
Joy to the world!
With the joyous festival of Christmas around the corner, tricity's upscale shopping and entertainment destination-DLF City Centre Mall in IT Park, Chandigarh, has been decked up like a bride for the mall's plush and up-market shopping-cum-entertainment fiesta - Merry Shopping Festival.
STAR TRACK
Fan cycles to Mumbai to meet Aamir!
Satyamev Jayate has made a huge impact across the nation and there is another incident to prove its positive effect when a fan cycled to Mumbai all the way from Ranchi to meet Aamir Khan and discuss national problems with him.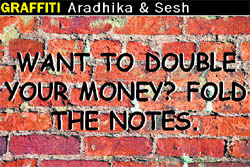 Short & sweet


Mallika's minting moolah


Sherlyn turns Santa


A peep into the advertisement world


Left out


Off and on, Mahie goes on


Double celebrations


Opportunity knocks


Megan's 'Twilight' moments


Crisis of conscience
chatter box
A heart of gold
The latest episode of UTV Stars' Live My Life 2 proves that Shilpa Shetty is a star with a big heart! We've heard of stars meeting their biggest fan, giving away presents to them but we haven't come across anyone who invited a fan to her house? Shilpa became the first one to do so. Not only did she invite Maahi, her fan to her house, she also ensured that she was well taken care of. She gave away presents to the fan and also posed with her for several photographs. After all, it's not every day that a fan gets invited to her favorite Star's house! Tune in to this heart-warming episode of Live My Life 2, featuring Shilpa Shetty and her biggest fan on December 23



To Hrithik, with love


B'day bumps


Change of guard


Rise and shine


Bipasha's got competition