Face of the week
This SSP used his skills to streamline traffic in Dehradun
Seema Sharma/TNS
Dehradun, December 22
In just one and half month of taking over as the SSP of Dehradun, Kewal Khurana has managed to achieve what appeared impossible all these years -- streamlining chaotic traffic in the capital city.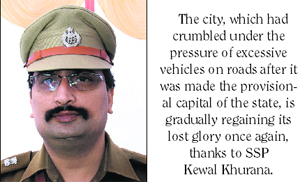 He began his tryst with the most-crowded and one of the busiest places from the very beginning of his stint here. He used his persuasive skills and stringent measures to browbeat traders as well as political groups which, otherwise, had always managed to thwart all such moves in the past to protect their vested interests. The public extended its overwhelming support to him.
The city, which had crumbled under the pressure of excessive vehicles on roads after it was made the provisional capital of the state, is gradually regaining its lost glory once again, thanks to Khurana. With traffic personnel visible all over the city, encroachment forcibly removed, unnecessary road cuts being blocked, parking regulations strictly imposed and offenders being penalised, things could have never got better here.
Khurana says, "Influential groups, which are unhappy at reform measures, can at the most get me transferred from Dehradun. But so long I am in the saddle I will continue working in the interest of the public and leave a benchmark for my successors to follow."
The people get justice immediately whenever they come to him with their complaints. Directions are passed to fellow police officers to address the problems within the given time limit. Those found negligent in duty or indulging in corruption are suspended immediately. Till date, he had suspended about 60 police personnel. At the same time, he also rewards those who do good work. He organised an event recently and invited the IGP and a state minister to felicitate policemen for their good work and a young city girl, Kavita Yadav, for refusing to marry into a family which demanded dowry.
Khurana also impressed upon the state government to revoke a judicial inquiry against the police for using force on protesters, who could have breached the security during the Vidhan Sabha session. This, he felt, was important to uplift the sinking morale of the police after the incident.
The creation of special units like the Senior Citizen Cell and the Women Cyber Cell and also bringing the Women Helpline under his direct control, amply reflect that his efforts to provide a safe and healthy environment in the city are indeed many notches higher than regular policing.
This IPS officer of the 2004 batch, who was brought up in a small town of Badayun in Uttar Pradesh, considers his father his sole inspiration in his life. He beams while saying, "My father, a businessman, always taught me to follow my inner calling and do everything I undertake with full passion and devotion." A known workaholic, Khurana says he works for 20 hours a day, something which he imbibed from his father.