Allahabad Kumbh Mela: 250 cusecs of water from Tehri Dam reaches Haridwar
Tribune News Service
Dehradun, December 22
In view of the Allahabad Kumbh Mela beginning on January 24 next year, the 250 cusecs (cubic metre per second) of water released from the Tehri Dam has reached Haridwar.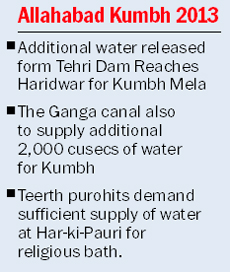 The Tehri Hydro Development Corporation, which operates the Tehri Dam, released the water yesterday and it took 14 hours to reach lower reaches of the Garhwal division — Rishikesh and Haridwar.
Though at Devprayag in Pauri Garhwal district, where the Alaknanda and the Bhagirathi confluence paves the way for the Ganga, 60 cumecs of extra water of the Alaknanda makes the water level in the Ganga go up to 310 cusecs.
In the latest development, the Uttar Pradesh Head Works Ganga Canal is from today onwards releasing 2,500 cusecs (cubic foot per second) of water daily to ensure a sufficient supply of water at the Sangam in Allahabad.
Veer Virendra Yadav, SDO, Head Works Ganga Canal, told The Tribune that a communiqué in this regard was received from the higher authorities this morning.
He said till the Allahabad Kumbh gets over, additional water from the Ganga canal would be supplied on a regular basis, even if the water level in the canal falls alarmingly.
In view of additional water being supplied from the canal, besides the Tehri Dam, teerth purohits, pundits and activists have demanded that the UP Irrigation Department, which regulates the Ganga canal operations in Haridwar, should ensure the availability of sufficient water at Har-Ki-Pauri and adjacent ghats for holy bath and religious rituals.
Naveen Bhatt, a purohit, said the UP Irrigation Department should ensure that both Allahabad Kumbh and Haridwar get sufficient water, lest it hurt the religious sentiments of the people.
The Teerth Maryada Raksha Samiti has also expressed concern over the working of the UP Irrigation Department, and demanded that the Ganga canal operations falling in Haridwar be handed over to Uttarakhand.
The dates of important holy baths during Allahabad Kumbh are January 14 (Makra Sankranti), February 15 (Basant Panchami), February 25 (Maghi Poornima) and March 10 (Shiv Ratri).
Notably, the water that is being released from the Ganga canal in Haridwar today onwards will not reach Allahabad before January 11, owing to a distance of 1,000 km between the two Kumbh cities.