M A I N N E W S
Delhi's shame
Govt sets up judicial panel to probe Capital gang rape
Tribune News Service
New Delhi, December 26
Faced with public fury, the government today set up a Commission of Inquiry to identify lapses and fix responsibility in the Delhi gang rape case. The issue was discussed by the Cabinet with ministers expressing concern over the incident.
The one-person Commission, to be headed by former Delhi High Court judge Justice Usha Mehra, will also suggest measures to make Delhi and NCR safer for women and submit within three months its report which will be tabled in Parliament along with action taken by the government.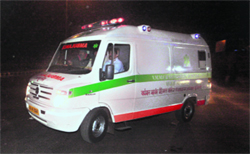 The 23-year-old rape victim being shifted from Safdarjung Hospital to Delhi airport.
The commission is in addition to the three-member committee, headed by former Chief Justice of India JS Verma, to suggest amendments to law for quicker trial and more stringent punishment in "aggravated sexual assault" cases amid demands for death penalty.
Announcing the decision to set up the commission at a meeting chaired by Prime Minister Manmohan Singh, Finance Minister P Chidambaram urged the public to "believe" that steps were being taken to find a lasting solution to the "problem that has plagued all metropolitan cities".
Sharing public anger over the brutal incident, Chidambaram said it was a "matter of shame" that the incident happened in Delhi. "We are deeply anguished at what happened in Delhi. I join all others in praying for the recovery of the victim," he said with Information and Broadcasting Minister Manish Tewari echoing the thoughts.
Referring to the setting up of the Justice Mehra Commission and the Justice Verma Committee, Chidambaram said the government had "serious intent" to address the broader issue of security of women in the country and provide for sterner punishment for such crimes.
The government, he said, was working on ensuring punishment to the guilty, find out what went wrong and amend laws dealing with crimes against women to provide for stern penalty and faster trials.
No move to axe Police chief: PC
The government appears to have no intention of axing controversial Delhi Police Commissioner Neeraj Kumar "at this stage". On the stand-off between Delhi CM Sheila Dikshit and the police chief, Chidambaram said it would be "inappropriate" to remove Kumar "at this stage. I think the Commissioner is doing his job. If there have been any lapses, we will look into it". Victim shifted from Safdarjung Hospital




Victim shifted from Safdarjung Hospital
The 23-year-old victim was reportedly shifted from the Safdarjung Hospital on Wednesday night. Sources in the hospital said she could be flown to Singapore. The victim remained critical during the day as her heart parameters dropped below normal past midnight. Doctors, however, claimed they were able to revive her out of danger within a few hours. — TNS