Take pride in your girl child: harsimrat
Condemns Congress for increase in fuel prices; says people want to change the govt at the Centre
Tribune News Service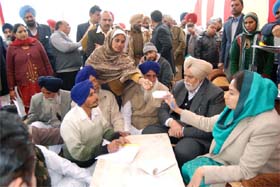 MP Harsimrat Kaur addresses a gathering during her visit to the Maur assembly constituency on Friday. A tribune photograph
Bathinda, january 4
Member of Parliament from Bathinda Harsimrat Kaur Badal today called upon society to play a major role in improving the condition of women by according them the respectable position that they command.
She called upon the people to resolve in the New Year that they will celebrate the first Lohri of their girl child the way it is done for male children.
Harsimrat was addressing a gathering during her visit to the Maur assembly constituency. She visited the areas of Rampura, Gill Kalan, Jethuke, Buggaran, Chotian, Krarwala and nearby villages where she distributed grants for development worth `1.05 crore.
She inaugurated the RMSA block of Government High School and RO as well as a shed constructed in the building of the cooperative society at village Gill Khurd. She listened to the problems of the people and gave instructions to the officials to solve the same.
She said the police and administration were putting in efforts to ensure the safety of women. She called upon the people to raise their voice against dowry, female foeticide and take initiatives to root out this social evil.
Later, talking to the media persons, she termed Congress policies as anti-people. "Repeated hike in the price of diesel have
hit the farming sector
hard. Government has turned a blind eye to the rising cost of input in the farming sector. There is a vast difference between the input and output achieved, which has forced farmers on the path of penury," she said.
She added that people had become fed up with the policies of the UPA government and hence, were now looking forward to a change in the next Lok Sabha elections.
Irrigation minister Janmeja Singh Sekhon, DC Kamal Kishore Yadav, SSP Ravcharan Singh Brar, SDM, Rampura, Bhupinder Singh, district transport officer BM Singh, district development and panchayat officer Rajinder Batra and others were also present at the event.

1 held for molesting woman
Tribune News Service
Bathinda, Janaury 4
While the national outrage over the gang rape and subsequent death of a 23-year-old girl in Delhi is yet to subside, cases of crime against women are being registered in the state.
The Talwandi Sabo police today booked a resident of village Lehri for trying to outrage the modesty of a woman from his village.
The accused has been identified as Manpreet Singh, alias Gaggu.
In her complaint to the police, the woman stated that on the afternoon of January 3, Manpreet entered her house and tried to outrage her modesty.
The woman alleged that apart from molesting her, Manpreet also abused her and passed lewd comments at her. Taking cognisance of her complaint, police acted swiftly and arrested Manpreet.