Tibetans take out silent march
Pay tributes to self-immolators
Tribune News Service
Dehradun, January 7
Tibetan men, women and children living in exile in Dehradun took out a silent march to express their solidarity with the self-immolators in Tibet, who have been fighting against Chinese repression.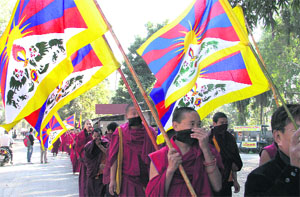 Tibetan monks take out a march against the Chinese atrocities in Dehradun on Monday. Tribune photo: Vinod Pundir
In the morning, members of the Tibetans community gathered at the Tibetan market and paid obeisance to the 95 Tibetans who had immolated themselves since 2009. Later, political representatives of the Tibetan parliament in exile addressed the gathering.
"The Chinese authorities continue to deny human rights to the Tibetans who are being forced to take the drastic step of self-immolation. The Chinese regime should end its repressive policies," said Venerable Kalsang Damdul, MP, Tibetan parliament in exile.
He said the Chinese government continued to remain oblivious to the aspirations and fundamental rights of the Tibetan people.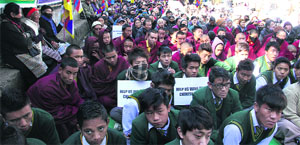 Tibetans hold a rally in Dehradun against Chinese atrocities on Monday. Tribune photo: Vinod Pundir
He said countries, including the United States of America and Italy, had passed a resolution against the Chinese aggression.
Tibetan Welfare officer Thinley Jigme said the Tibetans had never resorted to violence but the oppression by the Chinese continued unabated. "The authorities are suspicious of every Tibetan living in Tibet. The family members of the self-immolators are considered outlaws and are arrested and imprisoned. The situation in Tibet is worsening," said Jigme.
After the address, the protestors marched through the city carrying placards, denouncing the Chinese oppression.
The silent marchers passed through the Darshan Lal chowk, Paltan Bazaar, Clock Tower, Astley Hall and finally concluded at Tibetan Market.
Those who participated in the march included Dawa Tsering, chairman, representative committee of the Tibetan parliament in exile, Venerable Kalsang Damdul, MP, Venerable Mogru Tenpa, MP, and Gang Lhamo, MP, Tibetan parliament in exile.
Office-bearers of various Dehradun-based Tibetan organisations, including Sonam, member of the Regional Freedom Movement (Rajpur), Tsering Yonodon, member of pradhan sabha, (Sahastradhara), Karma Chodak and schoolchildren were part of the protest.