PUNJAB

HARYANA

JAMMU & KASHMIR

HIMACHAL

REGIONAL BRIEFS

NATION

OPINIONS

LETTERS

BUSINESS

SPORTS

WORLD


Cash-strapped MC places demand charter before new regime
Shimla, January 8
Hoping to get assistance from the new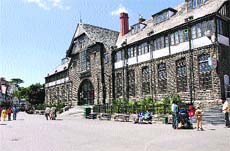 Congress regime in Himachal, a cash-strapped Shimla Municipal Corporation (MC) has placed its demand charter, listing 11 main problems before the state government, with the thrust being on resource generation.
Municipal Corporatiion building in Shimla. Photo: Amit Kanwar

Ban on polythene goes up in smoke
Palampur, January 8
Despite a ban on the sale and use of polythene in Himachal Pradesh, it is still in use in many parts of the state. In the absence of administrative and political will to tackle the situation, there is none at the district or sub-divisional level to implement the notification issued by the state government in this regard.
Dermatologist's services lauded
Palampur, January 8
Dr NL Sharma, a renowned dermatologist, who also served as Head of the Dermatology Department at Indira Gandhi Medical College, Shimla, and RP Medical College, Tanda, for 11 years, will be awarded with the Best Teacher Award by the Indian Association of Dermatologists and Venerelogists for his services in the field.
People speak out against outrage in Delhi
January 2, 2012
Non-availability of stamp papers irk locals
December 26, 2012
Tibetan NGO helps teach children of rag-pickers
December 19, 2012
Pathankot- Manali highway, a death trap
December 12, 2012
Memorials to martyrs lie neglected
December 5, 2012
Hydropower projects need Environment Ministry's nod
November 28, 2012
HP leads in providing aid to HIV+children
November 21, 2012
Govt, staff insurance Act fail to notify cement plant area
November 13, 2012
State BSNL staff to hold protests in Delhi tomorrow
November 7, 2012
Capt Saurabh Kalia's father for action against Pak army
October 31, 2012