PUNJAB

HARYANA

JAMMU & KASHMIR

HIMACHAL

REGIONAL BRIEFS

NATION

OPINIONS

LETTERS

BUSINESS

SPORTS

WORLD


KARGIL MARTYR
Capt Saurabh Kalia's father for action against Pak army
Palampur, October 30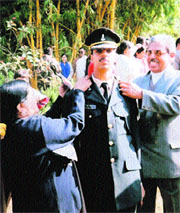 Dr NK Kalia, father of martyr Captain Saurabh Kalia, has said that he will continue his battle to get justice for his son, who laid down his life in the Kargil conflict 12 years ago. Dr Kalia, bent with age and wearing thick glasses, has been moving from pillar to post and had approached several national and international organisations to pressurise Pakistan to identify, book and punish those who indulged in the most heinous, inhuman and unpardonable crime.
Dr NK Kalia and his wife Vijay Kalia with their son Captain Saurabh Kalia at the passing-out ceremony at IMA, Dehradun.
Anti-corruption panel wages campaign
Chamba, October 30
With an appeal to the electorate to vote for honest candidates in Assembly elections in the state, the Himachal unit of the All-India Anti-Corruption Committee has waged a campaign against corruption in the state.
Ecologists express concern over depleting green cover
Palampur, October 30
A number of environmentalists and environment groups have expressed concern over the setting up of new hydro-power projects, cement plants and other industrial units in the state.
HLM candidate questions withdrawal of graft case
October 18, 2012
Transport min allots extra buses to own constituency
October 17, 2012
Fixing of plates way less than scheduled target
October 10, 2012
Overloaded trucks pose threat to Himachal roads
October 3, 2012
Regional factor may not play predominant role
September 26, 2012
Water levels in Bhakra, Pong dams still short of maximum limit
September 19, 2012
Benami land deals threaten Kangra tea industry
September 12, 2012
111-yr-old bridge poses threat to travellers
September 5, 2012
Palampur with manifold demands cries for attention
August 29, 2012
Dire situation on power front in northern India: CII report
August 22, 2012