PUNJAB

HARYANA

JAMMU & KASHMIR

HIMACHAL

REGIONAL BRIEFS

NATION

OPINIONS

LETTERS

BUSINESS

SPORTS

WORLD


111-yr-old bridge poses threat to travellers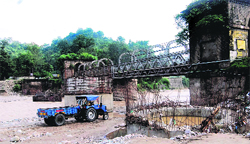 Nurpur, September 4
The Dehar Khud bridge on Pathankot-Mandi National Highway (NH) 20 at Kotla has outlived its utility and is facing threat of sudden collapse.
Over one-century old Kotla Bridge on Dehar Khud on the Pathankot-Mandi national highway along with the new bridge whose construction has been going on at a snail's pace. Photo: Rajiv Mahajan
Spurious pesticides invade markets
Poly houses, farms face onslaught of pests, insects
Mandi, September 4
The farmers growing vegetables in poly houses and open fields are facing an onslaught of pests. Insects in their farms are forcing them to resort to heavy spays of pesticides and insecticides, but to no avail. Either pesticides are spurious or pests and insects have developed immunity, say farmers.