High-Security Number Plates
Fixing of plates way less than scheduled target
Nurpur, October 9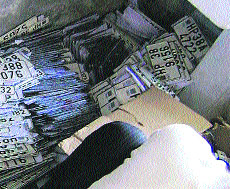 A lot of resentment is prevailing here among vehicle owners as the state government has failed to streamline the system of fixing High- Security Number Plates (HSNPs), even after 10 months of entrusting this job to a Delhi-based private company.
High security number plates piled up at Nurpur. Photo by writer

Highway repair funds from Centre misused: Cong
Bilaspur, October 9
The State Congress Rajiv Gandhi Sangthan and the District Congress Committee (DCC) have condemned the state government for "showing apathy" towards the maintenance of the National Highway-21 (Chandigarh-Manali).