MCB notifies zones, invites objections
Objections received over next 30 days will be reviewed before passing final notification
Tribune News Service
Bathinda, January 9
The city has been demarcated into eight zones under the property tax. Municipal Corporation Bathinda (MCB) has notified the eight zones and invited objections from general public over a period of next 30 days.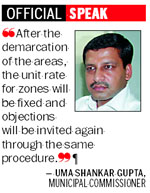 After 30 days, the objections received will be reviewed and a final notification will be passed. Municipal commissioner Uma Shankar Gupta said after the demarcation of the areas, the unit rate for zones will be fixed and again objections will be invited through the same procedure. Zone one consists of Mall Road area from Hanuman Chowk to railway station (both sides) and Dhobi Bazar Dev Samaj Chowk to Sadbhavna Chowk (both sides).
Zone two consists of areas of Mall Road, Hanuman Chowk to railway station, railway station to Mal Godam Road, Mal Godam Road to Singla Fancy Cloth House along to Aggarwal street to Des Raj School, Des Raj School to Qila gate, Qila gate to Arya Samaj School, Arya Samaj School to Court Road, court road to Mithu Wala turn and Mithu wala turn to Mata Rani Wali galiís middle area. The middle area includes both the cloth markets, Hospital Bazar, post office bazar, Sadar Bazar, Kikkar Bazar, Sirki Bazar, Middu Mal Street, Aggarwal Street, Court Road, Arya Samaj Chowk, Mata Rani Wali gali and other areas. Mall road and Dhobi bazar are not included for taxation purposes but for geographical continuation.
The third zone starts from Gole Diggi to Amrik Singh Road to Mann Petrol Pump to GT Road, GT road to Sirhind Banal, Sirhind canal to Kotkapura railway line, Kotkapura line to railway station, railway station to Gole Diggi's middle area including areas of Bhupindra Flour Mill, Veer Colony, Shakti Nagar, New Shakti Nagar, Vishal Nagar, Panchvati Nagar, Tagore Nagar, Madhokpura etc.
It also includes areas from Bibiwala road to 100-feet road towards Barnala bypass, 100 feet road right side North Estate, Kamla Nehru Colony, New Kamla Nehru Colony, Bharat Nagar, Patel Nagar, Shant Nagar, civil lines, Model town 1, 2 and 3 and other areas. It also has areas of GT road, Bibiwala road and Bibiwala Road to 100 feet going towards Bhagu Road both sides.
Zone IV includes areas of Prajapat Colony, Shiv Colony, Namdev Nagar, Ganesha Basti, Basant Vihar, Aggarwal Colony, Harpal Nagar, Sarabha Nagar, Ghanaiya Nagar, Malviya Nagar, Nai Basti, Arya Nagar, Chandsar Basti, Housefed Colony, Ganpati Enclave, Sheesh Mahal, Green city near BDA phase 4 and phase 5, Homeland Colony, Thermal Colony, NFL Colony, North Estate, Manocha Colony, Pukhraj Colony, Shiv Mandir Gali wala area Power House road, Jujhar Singh Nagar, Ajit Road, Guru Treg Bahadur Nagar, Green Avenue near Patel Nagar, left side of 100 feet road North Estate running from Bibiwala road to Barnala bypass, DD Tower Multania road, Barnala bypass road till Rose Garden, mini secretariat road to Qila road, Qila road to Arya School, along court road to Mithu wala turn, Mithu wala turn to Hanuman Chowk, Hanuman Chowk to GT Road till the mid of mini secretariat road.
Zone V consists of areas from Bibiwala Chowk to Rose Garden right side areas including Jivi Nagar, Hazura Kapura colony, Guru Gobind Singh Nagar, Balla Ram Nagar, Preet Nagar, Bank Colony, Teacher Colony, Dhillon Nagar, Baba Farid Nagar, National Colony, Maheshwari Colony, Engineer colony, Kartar Colony, Indraprastha Colony, Vishwas Nagar, grain market, vegetable market, Haji Rattan area, Pujjan Wala Mohalla, Guru Nanakpura, old thana, Telian Wala Mohalla, Singla Fnacy cloth house to bridge (both sides), HVM Colony and Sushant Colony, civil hospital etc.
The sixth zone includes areas of ITI industrial area Mansa Road, growth center Mansa Road, oil depot focal point Dabwali road, Vardhman Polytex, Giani Zail Singh engineering college, milk plant, thermal plant, Ambuja factory, Bathinda chemical, Roshan oil mill, Roshan oil paper mill, Bhai Mati Dass Nagar, Bhagwati Enclave, Gaurav Enclave Multania road, near Patiala railway crossing FCI godowns, Government Rajindra College, Patiala railway crossing to mansa road, Nachhatar Nagarm Joga Nagar, Badal Road, Dabwali Road, Guru Nanak Nagar near lakes, Captain Amrinder Singh Nagar (back portion of transport nagar), Kothe Amarpura, Kothe Kameke and others.
The seventh zone has areas trans railway line including Paras Ram nagar, Pratap Nagar, Gurukul road, Arjan Nagar, Jogi Nagar, Surkhpeer Road, Multania Road, Lal Singh Basti, canal colony, Naruana road, Baba Deep Singh Nagar, Harbans Nagar, Balraj Colony, Guru Ki Nagri etc.
The eighth zone includes areas of Janta Nagar, Sanjay Nagar, Bangi Nagar, Usham Singh Bagar, Awa Basti, Amarpura basti, Mehna Basti, Sanguana Basti, Kheta Singh Basti, Dhobiana Basti, Kothe Sucha Singh Wale etc.